The Big Sit! 2002 – By the Numbers
Participating States/Countries: 35 (record!)
Total Circles: 136 (record! – 116 circles in 2001)
Reported Sitters!: 554+ (record!)
Total Species Observed: 663 (record! – 609 species in 2001)
New species added to TBS! list: 88
Species missed in 2001: 114
Species seen in only one circle: 218
Ten Highest Circle Counts
Format: Rank. TBS! Location, City, State/Country – "Team Name (if any)" – Circle Captain – # Species in TBS! 2002 (# Species in TBS! 2001)
1. Tlacotalpan, Veracruz, Mexico – "Tlaco Birders" – David McCauley & Co. – 119 species (94)
2. Dike near the Westplaat, Zuid-Holland, Rotterdam, Netherlands – "The Undutchables" – Ben Gaxiola – 113 species (107)
3. Cape May Pt. Hawk Watch, Cape May, NJ – Michael O'Brien & Co. – 111 species (new)
4. Elfin Forest, Los Osos, CA – Jim Royer & Co. – 105 species (106)
5. Large dune, Westkapelle, Netherlands – "The Delta Devils" – Sander Lilipaly – 104 species (new)
6. Quintana Neotropical Park, Quintana, TX – "Brazosport Birders" – Charles Brower & Co. – 92 species (79)
7. Aiguamolls de l'Empordà Natural Park, Castelló d'Empúries, Spain – Aleix Comas & Co. – 90 species (new)
8. Backyard, Rio Hondo, TX – "Arroyo Colorado Audubon Society" – Kay Baughman & Co. – 89 species (82)
9. San Joaquin Wildlife Sanctuary, Irvine, CA – "Sea & Sage Audubon" – Chris Obaditch & Co. – 88 species (90)
10. Lake Mendocino, Ukiah, CA – "Twitch Whiffers" – George Chaniot & Co. – 87 species (75)
 State/Country Totals
Format: State/Country – # 2002 species (# 2001 species)
Texas – 235 (228), California – 169 (159), Netherlands – 154 (141), Connecticut – 131 (147), New Jersey – 123 (84), Florida – 121 (83), Mexico – 119 (115), Virginia – 119 (83), Maryland – 117 (71), Spain – 101 (new), England – 98 (56), Indiana – 95 (78), Michigan – 94 (112), South Carolina – 94 (72), Ohio – 92 (51), Arizona – 87 (59), Oregon – 86 (76), Louisiana – 85 (53), Oklahoma – 83 (84), Canada – 83 (missed '01), Missouri – 79 (61), South Africa – 78 (88), Washington – 68 (54), Georgia – 61 (50), Arkansas – 60 (26), Massachusetts – 60 (52), North Carolina – 55 (28), New York – 49 (48), Peru – 49 (new), Colorado – 45 (31), Utah – 42 (new), Illinois – 41 (74), Iowa – 39 (missed '01), West Virginia – 37 (new), Idaho – 27 (28), New Mexico – 15 (25)
---
Summary
The 10th Annual New Haven Bird Club Big Sit! is in the books. The event continues to spread across the US and around the globe. This year we added two new states, Utah and West Virginia, and two new countries, Spain and our first South American circle, Peru. Records continue to be broken in all statistical categories: circles – 136 (116 last year), Sitters! – 554+ (460+), States/Countries – 35 (31), Species – 663 (609). Throughout the event's existence, we have seen 777 species – roughly 8% of all the birds found on earth!
This report can be seen at the NHBC's website members.aol.com/nhbirdclub. We will also include a variety of photos along with captains' anecdotes. Follow the link for The Big Sit!.
Stories from the Field
Every Big Sit! is laced with great stories of birds and birders.
Reach out and touch someone – Cell phone contact was made between some circles. Betsy Thomas in Newburyport, Massachusetts called her father's circle in Allendale, New Jersey to check out how they were doing. In Milford, Connecticut the "Surf Scopers" and "Bald Eagles" can see each other on opposite sides of a large marsh. During the Sit! the Scopers alerted the Eagles about a Peregrine Falcon to the north of their circle.
Sniper Madness – In 2001 we were dealing with the anthrax mail contamination not to mention the aftershock of September 11th. This year the mid-Atlantic region was in the midst of the sniper attacks. Says Rich Rieger of Alexandria, Virginia, "We had some people dropout due to the sniper madness."
Competition – Birders faced some competition for their areas this year. In Ukiah, California, the "Twitch Whiffers" were setup near a camporee of 1000 kids. On South Padre Island, Texas, the "World Birding Center Islanders" had to contend with 5000 motorcycle conventioneers. The folks in Mica Bay, Idaho had to deal with the aftermath of the first day of waterfowl season – "3 dead ducks – one Mallard drake, a possible Northern Pintail drake, and one that we couldn't even guess at."
Families – Looking for a thrush (Turdidae)? Try Fort Motte, South Carolina, where they had 6 species including two new to The Big Sit! master list – Veery and Gray-cheeked Thrush. How about alcids (Alcidae)? The frontyard of Rebecca Cheek in South Beach, Oregon, is where you want to be. From a deck they saw Common Murre, Marbled Murrelet, and Rhinoceros Auklet. The latter two are new to TBS! master list.
"Here Comes the Sun"
Many circles wished to say those words at dawn on October 13th. Unfortunately for many, clouds, rain, and/or fog blocked that view. Similar to TBS! 2001, much of the eastern US was getting hit by a fall storm which made conditions miserable for birding. The folks at Centennial Park in Howard County, Maryland, had their lowest TBS! count ever and had a fraction of the usual number of Sitters!. Bad weather was also present in Europe as the English and Dutch circles experienced overcast conditions and rain. Ton Eggenhuizen in Flevoland, The Netherlands, said "In the early morning just two bouts of sunshine – in total 7 seconds". That was 7 more seconds than in my backyard. And for the second year in a row, Mike Petrucha of Houghton Lake, Michigan, had his scope blow over.
Of course, with an international event, there have to be some spots with sun. Sitters! in Macon, Missouri enjoyed a cold but sunny day. Terry Brodner of Phoenix, Arizona enjoyed sun and temperatures in the high eighties. A sunburn was the price for the good weather.
Remember this is The Big SIT!
While The Big Sit! expounds the virtues of being stationary, some people had the need and/or desire to travel on TBS! day. Richard McCormick usually Sits! in his backyard in Oxford, Connecticut, but was down along the New Jersey shore this year. He managed to see a few species that don't normally visit his inland backyard including Northern Gannet, Sanderling, and Brown Pelican. Shannon Mayorga would normally be Sitting! in Key West, Florida, but instead was in Seattle, Washington. Suffice it to say, she was the only south Floridian to see Steller's Jay on TBS! day.
Some people traveled long distances to Sit!. Vicki Hatfield of Grove, Oklahoma gave up her backyard circle to join the "Edge-of-the-Earthers" in Lexington, OK. James R. Hill III of the Purple Martin Conservation Association drove 4 hours from Erie, Pennsylvania to Whipple, Ohio to join the Indigo Hill crowd. Unfortunately, James did not bring any Purple Martins with him.
Some people traveled between circles. Rich Rieger and others traveled between two circles in Alexandria, Virginia, that were manned by the Northern Virginia Bird Club. Georgette Guernsey started out at Kurth Lake in Angelina County, Texas, on land that is owned by a paper mill. Access is only by key, and she says, "Kurth Lake is one of the few areas we are allowed to bird freely so we guard the privilege carefully." After leaving Kurth Lake she managed to go to church, play piano, and then continue birding in her Lufkin, Texas, backyard.
In Essex County, Ontario, Tom Hince made it out to his circle at Holiday Beach Conservation Area and tallied 87 species in only a few hours then left around noon. Tom's own words can fill in the rest of the story: "As I was leaving the tower my cell phone rang and it was friend Paul Pratt checking to see how I had fared. After I told him, he chuckled that he had checked the website out and that the event was on SUNDAY! I couldn't believe it, but sure enough when I got home I immediately verified his news. Fortunately on Sunday Paul was able to help me out with the Sit!…so again on Sunday morning I got up early and made the trek to the tower." Tom only got 83 species on Sunday, but since that included the Golden Bird!, I think the sting of embarrassment has worn off.
Add it to the List
We added 88 species to our 10-year-old Big Sit! master list. Many of these, as you would expect, were in Peru, Spain, and other locations where TBS! is fairly new.
Site lists were the beneficiaries of our October 13th endeavors. Clark's Grebe was added to the species list at Lake Sammamish State Park in Washington. Chuck-wills-widow was added to the site list of Dairy Lake in Texas as well as The Big Sit! master list. Bill Thompson III and crew added Black-crowned Night Heron to the Indigo Hill Birding Tower's list in Whipple, Ohio. In Maryland they added the 196th bird to the site list at Fort McHenry Park – Clay-colored Sparrow. Meanwhile the state's second record of Eurasian Collared-dove was seen at Assateague Island.
Life lists were also enhanced. Stacy Hanks in Milford, Connecticut, added American Bittern to her life list while Herb Fibel got to add Bay-breasted Warbler in Mesa, Arizona.
Many circles keep track of their all-time Big Sit! list. Tops (that we know of) is Elfin Forest in Los Osos, California, with 160 species. Other all-time TBS! lists include: Milford Point, Connecticut, with 134 species (10 years); Lexington, Oklahoma, with 41 species (3 years); Granite Reef, Arizona, with 107 species; Allendale, New Jersey, with 93 species (8 years); and Unionville, Indiana, with 108 species (7 years).
Long Time, No See
We were glad to have a couple locations and species back that we haven't had for a few years. It has been four years since a Black Tern appeared on our species list. Five years ago (1997) was the last time we had a circle in Iowa. During that Sit!, we had our last glimpses of Yellow-throated Vireo, Red Phalarope, and California Gnatcatcher until this year. Canada had the longest absence that was erased this year. The last time a Canadian circle appeared in The Big Sit! was in 1995 in British Columbia.
<What's Cooking?
Sitters! enjoyed a diverse menu on October 13th. Chili was popular in the Midwest at circles in Macon, Missouri, and Lexington, Oklahoma. This fall's apple harvest made it into an apple pie in Macon and apple crisps in Whipple, Ohio.
Birds were also feasting at feeders, marshes, and woods near our circles. Two stories standout from the rest. The first was a pair of Red-tailed Hawks who caught a squirrel in Webster, Texas. As one ate and the other watched, a pair of White-tailed Hawks came by to harass them and see if they could snag a morsel. Perhaps the best story came from Jesse Fagan in Nacogdoches, Texas. He observed a Bald Eagle harassing some Forster's Terns. To his amazement, the eagle actually snatched one of the terns out of the air and flew off to the nearby forest – tern in talons.
The Final Word:
As always, if you find anything that is wrong, please let me know. There is so much to keep track of, I could have forgotten or misplaced something along the way. Your patience with my limitations is greatly appreciated. The future looks bright for The Big Sit! as Bird Watcher's Digest will take-on a bigger role. Now that this is over, I have about 6-7 weeks to recuperate before sugaring season starts up here. Then I will put myself through another month of sleep-deprived torture.
---
GOLDEN BIRD! MIGRATES NORTH!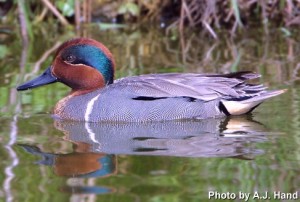 At the New Haven Bird Club's December meeting, Green-winged Teal was randomly drawn as The Golden Bird! for 2002. Since 31 circles had it, a second drawing was held to determine which circle would get to direct the $500. This year's winning circle is Tom Hince & company at Holiday Beach Conservation Area in Essex County, Ontario, Canada. He will donate the $500 to the Holiday Beach Migration Observatory (HBMO). The HBMO is a volunteer, non-profit membership organization that promotes the study and protection of migrating birds. The primary activity of HBMO is the scientific study of fall raptor migrations through counting and banding of hawks at Holiday Beach Conservation Area.
NHBC thanks Swarovski Optik for sponsoring The Golden Bird! Swarovski Optik can be found on the web at www.swarovskioptik.com.
---
THANK YOU!
We couldn't make The Big Sit! happen without the help and support of many folks and organizations. Thanks to A.J. Hand for letting us borrow his photograph of a Green-winged Teal. Thanks to all the Sitters! who participated and the circle captains who packaged the data. Thanks to all the non-North American circle captains for being very helpful and patient with my repeated emails and questions. Thanks to the Fyke Nature Association who again donated $50 to the NHBC. Thanks to Swarovski Optik who has been a generous partner for the last four years by providing the $500 prize for The Golden Bird! Last, but not least, THANKS to Bird Watcher's Digest for co-sponsoring this year's event. They covered all of our costs plus some and did a fantastic job with the t-shirts.
---
List of Circles and Participants
Format:
State/Country – # Circles in 2002 (# circles in 2001)
· Participants – TBS! location, City, State/Country – # 2002 species (# 2001 species)
---
Arkansas – 1 Circle (1)
· Allan & Kathleen Mueller – Backyard, Conway – 60 (new)
Arizona – 4 Circles (3)
· "Asterisks" – Pete Moulton, Cynthia Donald, Ken & Ardelle Howe, Adam Martin, & Herb Fibel – Granite Reef Reservoir – Tonto NF, Mesa – 51 (50)
· "The Amigos At Tres Rios" – Terry Brodner, Bob McDonald, & Daisy – Tres Rios, Phoenix – 39 (new)
· Maureen Hickey & Don Gunther – Sweetwater Wetlands, Tucson – 38 (13)
· "White Mt. Audubon Ospreys" – Chuck & Mary Ellen Bittorf, Jimmy Videle & Lorranie, Bob & Lorreta Pena, Caroline Deegan, & Lanny Richard – Woodland Lake Park, Pinetop-Lakeside – 31 (new)
California – 8 Circles (7)
· Jerry Ambrose, Corrine Ardoin, Dan Ardoin, Bill Bouton, Bob Bowlus, Gavan Brown, Mark Brown, Neil Clipperton, Travis Cooper, Tom Edell, Rosemary Flamson, Tom Friedland, Alice Gomez, Freeman Hall, Marlin Harms, Jim Havlena, Karen Havlena, Dave Lawrence, Susan McTaggert, John Perkins, Ted Pope, Stan Reichenberg, Dave Roark, Jim Royer, Brad Schram, Steve Schubert, Dave Schurr, Greg Smith, Mike Stiles, & Howard York – Elfin Forest, Los Osos – 105 (106)
· "Sea & Sage Audubon" – Chris Obaditch, Colin Campbell, Dick Purvis, Peyton Cook and Bruce Aird – San Joaquin Wildlife Sanctuary, Irvine – 88 (90)
· "Twitch Whiffers" – Vishnu, George Chaniot, Matthew Matthiessen, & Chuck Vaughn – Lake Mendocino, Ukiah – 87 (75)
· John Mariani – Calero Reservoir, San Jose – 62 (60)
· Fran Alvernaz – backyard, San Rafael – 61 (57)
· "Sea & Sage Audubon" – Linda Haun & Mary Faber – Peters Canyon, Orange – 55 (new site)
· Jennifer Rycenga & Jeanine E. Strobel – Palo Alto Baylands boardwalk, Palo Alto – 48 (51)
· "Janna-Jana Birdarama!!!" – Janna Pauser, Jana Katenhorn, & Joan Brauch – Guadalupe Oak Grove Park, San Jose – 27 (new)
Canada – 1 Circle (missed '01)
· Tom Hince, Paul Pratt, Bob Hall-Brooks, & Allan Chartier – Holiday Beach Conservation Area, Essex Co, Ontario – 83 (new)
Colorado – 3 Circles (2)
· "Scrub J-oakers" – Hugh Kingery, Urling Kingery, & Karen Metz – backyard, Franktown – 35 (new)
· Susan Soloyanis – backyard, Cascade – 21 (27)
· Kathleen Van Orsdel – Springs Ranch Golf Course, Colorado Springs – 8 (11)
Connecticut – 14 Circles (17)
· "Surf Scopers" – Patrick Dugan, Frank Gallo, & John Gallo – Milford Point – Observation platform, Milford – 76 (81)
· "Hawkeyes" – Tom Kilroy, Frank Mantlik, Dori Sosensky, Charlie Barnard, Bill Banks, Roy Harvey, Steve Mayo, Ron Pelletier, Nick Bonomo, and others – LPP Hawkwatch site, New Haven – 61 (42)
· Dave Tripp, Fran Zygmont, John Baker, Angela Dimmitt, Cynthia Phipps, Elliot Ashe, & Dave Rosgen – White Memorial Foundation – Sutton's Bridge, Litchfield – 58 (64)
· "The Bald Eagles" – Stacy Hanks, John Castiglioni, Candace Chapman, Charlotte Weston, Steve Spector, & Charla Spector – Nell's Island, Milford – 56 (50)
· "Hartford Audubon Society" – Betty Kleiner, Mona Cavallero, Paul Cianfaglione, Carl Ekroth, Sam Fried, Jay Kaplan, Stephanie Lovell, Roger Preston, & Joan Tinson – Station 43, South Windsor – 56 (69)
· Robert Dixon – backyard, Sterling – 45 (46)
· Andy Brand – backyard, Hamden – 41 (34)
· Amy Peck & Susan Annatone – backyard, West Haven – 38 (39)
· "The Yardbirds" – Marty Moore, Randy Suhl, Lynn James, Robin McAllister, & Natalie Chamberlain – backyard, Wallingford – 34 (53)
· "Housatonic River Rats" – Nita Hamilton – Caswell Cove, Milford – 26 (23)
· Larry Bausher – East Rock Park, Hamden – 19 (19)
· John & Liz Himmelman – backyard, Killingworth – 19 (13)
· Richard Chyinski – Grassy Hill Rd., East Lyme – 13 (23)
· John Triana – backyard, Prospect – 11 (20)
England – 3 Circles (1)
· Steve Lister – Rutland Water, Oakham – 78 (new)
· "Sitting Ducks" – Bo Beolens, Ron Bartlett, Norman McCanch, John Cantelo, Chris Barker, Dave Wilson, Dave Hatton, Ian Harding, & visitors – Grove Ferry Nature Reserve, Canterbury, Kent – 71 (new)
· Peter Wilkinson – East Hyde, Bedfordshire – 54 (56)
Florida – 10 Circles (8)
· David Simpson – Turtle Mound, Canaveral National Seashore – 70 (new)
· Andy & Steve Bankert – Sebastain Inlet State Park, Indian River County – 62 (new)
· "The Under the Bridge Birding Gang" – Ray Scory – Dunlawton Bridge, Port Orange – 37 (36)
· "Smoke Ducks" – Bob & Rita Grant – backyard, Brooksville – 31 (35)
· Mark Whiteside – Boot Key, Key West – 27 (18)
· "Team Xantus" – Jacqueline Holstein – Backyard, St. Augustine – 21 (24)
· Mark Hedden – Hawkwatch, Grassy Key – 16 (new)
· Ann-Francis & William Ford – backyard, Key West – 11 (8)
· Hilary Murdock – Higgs Beach, Key West – 5 (new)
· Jan Drinkwater – backyard, Key West – 1 (new)
Georgia – 2 Circles (2)
· Rose & Jerry Payne – backyard, Musella – 44 (new)
· Patrick Brisse – backyard, Tucker – 42 (new site)
Iowa – 1 Circle (missed '01)
· Rita Goranson & Carolyn Fischer – Clear Lake/Ventura Marsh, Ventura – 39 (new)
Idaho – 1 Circle (1)
· "Coeur d'Alene Audubon Society" – Corinne and Del Cameron, Kris Buchler, Jenny Taylor, Jan and Herb Severtson, Janet Callen, Lynn Sheridan, Gary Neilson, Lisa Hardy, & Roland Craft – Coeur d'Alene Lake, Mica Bay – 27 (28)
Illinois – 1 Circle (2)
· Richard Biss – backyard, Lake Villa – 41 (56)
Indiana – 3 Circles (2)
· "Sitting Duck Deck Sitters" – Jim & Susan Hengeveld, Lee Sterrenburg, Mike Clarke, Ron McCullick, Jim Brown, John Lawrence, Martha, Brian & Olivia Bowman, & Susan Sperry & friends – backyard, Unionville – 75 (69)
· Bill Buskirk, Damon Hearne, Matt Klostermann, Christine Larson, Anne Rust, James Sterrett, Chris Warren, & Ryan Welch – Brooksville Lake, Union Co. – 71 (new site)
· Todd Elliott, Scott Barton, & Rick Brooks – Monroe Lake, Bloomington – 35 (new)
Louisiana – 2 Circles (1)
· "Shreveport Society for Nature Study – Bird Study Group" – Nancy Menasco, Jerry Bertrand, Laurie Robertson, Charlie Lyon, Jeff Trahan, Mary Ellen Lewis, Betsy Moreland, Linda Adrion, Jean Trahan, Rosemary Seidler, Bill Wood, Mac Hardy, Jim Ingold, & Lily Poole – Red River Education and Research Park, Shreveport – 68 (53)
· Van Remsen – backyard, St. Gabriel – 50 (new)
Massachusetts – 4 Circles (3)
· "Hoffmann Bird Club" – Noreen Mole, David St. James, Tom Collins, Gary Soucie, Marina Soucie, Norma Purdy, Priscilla Bailey, & Kathryn Wiencke – Canoe Meadow Wildlife Sanctuary, Pittsfield – 42 (41)
· Russ Titus – Fox Mill, Marshfield – 31 (new)
· Betsy Thomas & Peter Welch – backyard, Newburyport – 24 (26)
· "Bittern Enders" – Tom Swochak & Joe Wojtanowski – Blueberry Hill, West Granville – 15 (10)
Maryland – 5 Circles (3)
· Matt Hafner, James L. Stasz, Zach Baer, Norm Saunders, & Fran Saunders – Assateague Island, Worcester County – 68 (new)
· "The Star Spangled Birders" – James W. Peters, Gail Frantz, Wendy Taparanskas, & Keith Eric Costley – Fort McHenry Park, Baltimore – 66 (55)
· Walter Ellison, Peter Mann, & Nancy Martin – Eastern Neck Island, Eastern Neck National Wildlife Refuge, Rock Hall – 56 (new)
· "The Montgomery County Sitting Ducks" – Clive Harris, Tom Marko, Cynthia and Tony Meade, Janet Millenson, & Rick Sussman – Black Hill Regional Park, Ashton – 46 (new)
· "Howard County Bird Club" – Kurt Schwarz et. al – Centennial Park, Howard Co. – 39 (49)
Mexico – 1 Circle (1)
· "Tlaco Birders" – Tim Smart, David McCauley, Rafael Aguilera, Hector Morales, & Melchor Munoz – Tlacotalpan, Veracruz – 119 (94)
Michigan – 4 Circles (5)
· Barbara Baldinger, Frank Dennis, Marilyn Dennis, & Alan Ryff – Metro Beach – North Marsh, Lake St. Clair – 58 (59)
· Mike Petrucha – Tawas State Park, Tawas – 49 (33)
· Barb Baldinger, Bob & Ruth Schmidt, Jim Fowler, Tom Heatley, Frank Lautner, Diane Miller, Joanna Pease, and Chris, Foster, & Ellen Chamberlain – Metro Beach – South Marsh, Lake St. Clair – 48 (55)
· "Washtenaw Wingnuts" – Don Chalfant, Jacco Gelderloos, Ginger Hysell, Matt Hysell, Mike Sefton, Suzanne Vedder, & Roger Wykes – Independence Lake, Washtenaw Co. – 48 (46)
Missouri – 3 Circles (3)
· Steve Kinder, Doris Fitchett, Terry McNeely, Myrna Carlton, Joyce Bathke, & Edge Wade – Swan Lake NWR, Mendon – 64 (46)
· Judi Ditch – Shaw Nature Reserve, Gray Summit – 28 (13)
· Sam Cook, Cleo Cook, & John Tate – Backyard, Macon – 16 (new)
North Carolina – 2 Circles (1)
· "Blue Ridge Birders" – Jim Keighton – frontyard, Sparta – 41 (28)
· "The Mount Pisgah Hawk Watch Optimists" – Bill Sanderson, Ray Sharpton, & Sandy Sharpton – Mills River Overlook, Asheville – 33 (new)
Netherlands – 6 Circles (4)
· "The Undutchables" – Ben Gaxiola – Dike near the Westplaat, Zuid-Holland, Rotterdam – 113 (107)
· "The Delta Devils" – Sander Lilipaly – large dune, Westkapelle – 104 (new)
· "Anser anser" – Kees de Pater, Greet Boomhouwer, Peter Scholten, Auke Ferwerda, & Ton Eggenhuizen – Oostvaardersplassen, Flevoland – 86 (102)
· "Longfieldbattle" – Jan Wierda – Langevelderslag, near The Hague – 63 (new)
· "Dutch Bridge Birders" – Ricardo van Dijk, Ellen de Bruin, & Frank van Groen – dike 20 miles E of Amsterdam, Flevoland – 57 (79)
· "Corversbos Counters" – Marijn Prins, Hans van Oosterhout, Fred van Klaveren, Koos Meesters, Frank Derriks & many more – Corversbos, Hilversum, Noord-Holland – 57 (65)
New Jersey – 3 Circles (3)
· Michael O'Brien, Richard Crossley, Dave Hedeen, & Glenn Davis – Cape May Pt. Hawk Watch, Cape May – 111 (new)
· "The Celery Stalkers" – Stiles Thomas, Carol Flanagan, Betty Aiken, Rob Fanning, George Flanagan, Mark Kantrowitz, Ivan Kossak, Jennifer Kossak, Darlene Lembo, Mike Limatola, Maria Marino, Charlie Mayhood, Rochana Muenthongchin, Kurt Muenz, Jim Schlick, Malcolm Shesworth, & Kevin Watson – Celery Farm Natural Area, Allendale – 55 (61)
· Richard McCormick – Long Beach Island, North Beach Haven – 23 (new location)
New Mexico – 1 Circle (1)
· Patricia Russell – backyard, Santa Teresa – 15 (25)
New York – 3 Circles (2)
· "Hudson River Audubon of Westchester" – Michael Bochnik, Saul Scheinbach, Kelli Jewell, & Bill Van Wart – Lenior Nature Center, Yonkers – 37 (45)
· "The Nature Club of Central New York" – Brenda Best, Donna Coleman, Dan Skinner, Belle Peebles, & Carolyn Keefe – frontyard, Durhamville – 30 (missed '01)
· "Ovenbirds" – Angela Broughton – Pfeiffer Nature Center, Portville – 6 (17)
Ohio – 3 Circles (2)
· Bill Thompson III, Julie Zickefoose, Phoebe Thompson, Liam Thompson, Steve McCarthy, Shila Wilson, Eva Bradley, Lucine Wright, Jeanette Esker, Dick Esker, James R. Hill III, Bill Thompson Jr., Laura Thompson-Rudie, Dave Rudie, & Jake Rudie – Indigo Hill Birding Tower, Whipple – 62 (44)
· Doug Overacker, Julie Karlson, & Larry Jeanblanc – Buck Creek State Park, Clark Co. – 51 (new)
· "Dean Clan" – Pat & Jack Dean, Alex & Kurt Vlastnik, Carrie, Corrinne, & Christian Burns, Celia & Joey Dean, & Jeanette Dean – backyard, Prospect – 18 (20)
Oklahoma – 3 Circles (4)
· Mike Dillon, Berlin Heck, & David Arbour – Red Slough, Idabel – 75 (69)
· Doug McGee, Michael Corbett, Don & Joyce Varner, Gylay Hart, Ellen Martin, Jim Harmon, Beth Brady, May Graham, Autumn & Tonya Taylor – Sequoyah State Park, Wagoner – 28 (35)
· "Edge of the Earther's" – Cyndie Browning, Vicki Hatfield, Phil & Sue Ann Floyd – frontyard, Lexington – 23 (24)
Oregon – 2 Circles (2)
· Rebecca Cheek, Carol Cole, Darrel Faxon, Wayne Hoffman, Linda MacKown, Kathy Merrifield, Walt Nelson, Laimons Osis, & Paul Reed – frontyard, South Beach – 57 (40)
· Roy Gerig & Carol Karlen – Baskett Slough National Wildlife Refuge, Dallas – 46 (52)
Peru – 1 Circle (new)
· "Lima Bird Watching Club" – Gunnar Engblom & 20 others – Pantanos de Villa, near Lima – 49 (new)
South Carolina – 4 Circles (2)
· "Waccamaw Audubon Society" – Tonya Spires and friends – Huntington Beach State Park, Conway – 53 (51)
· "Columbia Audubon Society" – Robin Carter, Donna Bailey, Andrea Ceselski, & Heidi Hoerman – Congaree Bluff HP, Fort Motte – 51 (38)
· Bruce Krucke – frontyard, Yonges Island – 43 (missed '01)
· Lyle & Sarah Campbell – backyard, Spartanburg – 8 (new)
South Africa – 2 Circles (2)
· Ian Mileham – A1 Yotclub B&B, Little Karoo – 60 (56)
· "Tygerberg Bird Club" – Sally Adam & Pam Eloff – Alphen Greenbelt, Constantia – 38 (new site)
Spain – 2 Circles (new)
· Ponç Feliu, Mercè Sánchez-Frou, Joan Carles Gimisó, Ana López, Helena Perxacs, & Aleix Comas – Aiguamolls de l'Empordà Natural Park, Castelló d'Empúries – 90 (new)
· Joan Budo – Natural Park of l'Albera, Catalonia – 23 (new)
Texas – 22 Circles (25)
· "Brazosport Birders" – Charles R. Brower, Olivia Brower, Tom Collins, Deanna Francis, Steve Gross, Ian Hartzler, Phil Huxford, Ron Weeks, & Ken West – Quintana Neotropical Park, Quintana – 92 (79)
· "Arroyo Colorado Audubon Society" – Kay Baughman, Brad Baughman, Mark Conway, Chris Mild, Phil Nelson, Bob Deputy, Joann Deputy, Sue Griffin, Billy Snider, Mark Warner, Kitty Wade, Pat Wade, Sara Parsons, Paula Parson, Diann Ballesteros, Katrina Troppy, Mike Troppy, Nathan Troppy, JoAnna Vernetti Troppy, Frank Wiseman, Allan Williams, & Dorie Stolley – backyard, Rio Hondo – 89 (82)
· "World Birding Center Islanders" – John C. Arvin, George and Scarlet Colley, Barbara Kennett, Pat and Kitty Wade, & Dorie Stolley – World Birding Center, South Padre Island – 78 (78)
· "Galveston Bird Club" – Jim Stevenson & Maureen Myers – Galveston Island, Galveston – 73 (82)
· Tom Langscheid & Jim Sinclair – Dairy Lake, Kleberg County – 71 (new)
· Tony Gallucci, Greg Lisciandro, & Bob Dowler – Ingram Dam Lake, Ingram – 61 (new)
· Jesse Grantham – Hans Suter Park, Corpus Christi – 57 (new)
· Jack Burnell, Kay Burnell, Jesse Fagan, Georgette Guernsey, Eloise Havard, Ruth Heino, Inez Morphis, & Dave Wallace – Kurth Lake, Angelina County – 42 (new site)
· "Mainland Bird Club" – Richard Mayfield – Brazos Bend State Park, Needville – 40 (51)
· Chuck Davis – Rollover Pass – Bolivar Peninsula, Galveston County – 39 (32)
· "Buff-bellies" – Martin Hagne, Eva Fiscal, Connie Stone-Hagne, Belinda Johnson, & visitors – Valley Nature Center, Weslaco – 36 (34)
· "Bolivar Birders" – Bonnie Parker, Carolyn Allford, Susan Bush, Patty Hagstrom, & Diane Eichorn – Bolivar flats, Galveston Co. – 35 (47)
· "Tallgrass Prairie Audubon Society" – Mary Curry, Claire Curry, Mark Harris, & Rosie the Dog – Lyndon B. Johnson National Grasslands, Decatur – 34 (32)
· Ursula Kramer, Larry & Nancy LaBrant, Charles & Ann Sadler, Bob & Win Holmes, David Bryant, Ginny Little, Don & Paula Graham, Roy Reinarz Jr., Ed & Dottie Yturri, & Janice Quam – Inks Lake State Park, Burnet – 32 (new)
· Dick Heller – El Rio RV Park, Falcon Heights – 27 (30)
· "Grouse-a-lots" – Georgette & Bill Guernsey – backyard, Lufkin – 26 (new)
· Dede Crusinberry, Jim Crusinberry, Blair Moore, & Ronnie Moore – backyard, New Braunfels – 26 (new)
· "Biel Big Sit" – Steve & Regina Biel – Piney Woods, Tenaha – 21 (new)
· Margret Simmons – backyard, Houston – 19 (15)
· Anne Shelton – backyard, Webster – 18 (7)
· Nate McVaugh & Lydia Middendorf – frontyard, Johnson City – 15 (9)
· Twyla McCarty – frontyard, McKinney – 9 (new)
Utah – 1 Circle (new)
· Eric Huish & KC Childs – Lincoln Point, Utah Lake, Utah County – 42 (new)
Virginia – 4 Circles (2)
· "Coastal Virginia Wildlife Obsevatory" – Brian Taber, Zach Smith, Earl Hodnett, Allen Browne, Harry & Liz Armistead, Bob Anderson, Thuy Tran, Lee White, & Bill Lagerstrom – Kiptopeke State Park, Williamsburg – 63 (73)
· "The Northern Virginia Bird Club" – Rich Rieger, Kurt Gaskill, Ed Eder, Steve Bruck, Paula Sullivan, Sonya Santa Ana, & Mike Iwanik – Belle Haven/Dyke Marsh, Alexandria – 59 (new)
· "The Northern Virginia Bird Club" – Rich Rieger, Ray Smith, Erika Wilson, Paula Sullivan, Anne Stahan, John Drummond, Barb and Charlie Chambers, Kurt Gaskill, Joanna Taylor, & Sonya Santa Ana – Huntley Meadows Park, Alexandria – 58 (new)
· David Clark – backyard, Norfolk – 52 (49)
Washington – 5 Circles (2)
· Carl Haynie – Lake Sammamish State Park, Issaquah – 41 (new)
· Dennis Rockwell – Two Rivers County Park, Benton County – 35 (21)
· "Rain Tree Crow" – Arthur Grimes – Spencer Island, Everett – 31 (39)
· Joe Fulton, Mike Fulton, Dave Fulton, & Russ Roundy – backyard, Spokane – 26 (new)
· Shannon Mayorga – Elliot Bay, Seattle – 6 (new)
West Virginia – 1 Circle (new)
· Janet Butler, Patty Morrison, Jon Benedetti, Wilma Jarrell, & Bill Butler – Ohio River Islands National Wildlife Refuge, Middle Island, St. Mary's – 37 (new)
---
The Big Sit! 2002 – Species List
Bold species names note those that are new to TBS! list. Species names without state or country codes are those that have been seen on previous TBS!'s, but were not seen in 2002.  States are noted by their postal abbreviations. Countries are noted as such: C=Canada, N=Netherlands, E=England, M=Mexico, P=Peru, SA=South Africa, and S=Spain.
---
The primary reference for common names and taxonomy is the AOU's Check-list of North American Birds, 7th Edition. Sibley and Monroe's list was used for birds not appearing on the AOU check-list. These two lists disagree to some degree, therefore some of non-North American species may not be in the correct order. Any advice on how to handle this is appreciated.
---
Red-throated Loon (CT, MD, N, NJ, OR)
Arctic Loon (N)
Pacific Loon (OR)
Common Loon (CA, C, CT, ID, MD, NJ, NY, OR, VA, WA)
White-tufted Grebe (P)
Little Grebe (E, N, S)
Least Grebe (M, TX)
Pied-billed Grebe (AZ, CA, C, CT, IA, ID, IN, MD, M, MI, OH, OK, OR, P, SC, TX, VA, WA)
Great Crested Grebe (E, N)
Great Grebe (P)
Horned Grebe (CA, OR, WA)
Black-necked Grebe (N)
Red-necked Grebe (ID, N, OR)
Eared Grebe (AZ, CA, S, UT)
Western Grebe (CA, ID, OR, UT, WA)
Clark's Grebe (CA, OR, UT, WA)
Sooty Shearwater
Balearic Shearwater (S)
Black-vented Shearwater
Peruvian Booby (P)
Northern Gannet (FL, N, NJ, S)
Great White Pelican
American White Pelican (AR, CA, FL, IA, LA, M, MO, OK, TX, UT, WA)
Brown Pelican (CA, FL, MD, NJ, OR, SC, TX, VA)
Peruvian Pelican (P)
Long-tailed Cormorant (SA)
Brandt's Cormorant (OR)
Neotropic Cormorant (AZ, LA, M, P, TX)
Double-crested Cormorant (AR, AZ, CA, C, CT, FL, IA, IL, IN, LA, MA, MD, M, MI, MO, NJ, NY, OH, OK, OR, SC, TX, UT, VA, WA, WV)
Great Cormorant (CT, E, MD, N, NJ, S, VA)
Cape Cormorant
Guanay Cormorant (P)
Pelagic Cormorant (OR)
European Shag
Anhinga (FL, M, TX)
Magnificent Frigatebird (FL, M, TX)
American Bittern (CT, MA, NJ, TX)
Little Bittern (SA)
Least Bittern (P, TX)
Great Bittern (N)
Hamerkop (SA)
Great Blue Heron (AR, AZ, CA, C, CT, FL, GA, IA, ID, IL, IN, LA, MA, MD, M, MI, MO, NC, NJ, OH, OK, OR, SC, TX, UT, VA, WA, WV)
Great Egret (AR, AZ, CA, C, CT, FL, IA, IN, LA, MD, M, MI, MO, N, NJ, OK, OR, P, SC, S, TX, VA)
Black-headed Heron (SA)
Little Egret (E, N, SA, S)
Snowy Egret (AZ, CA, CT, FL, LA, MD, M, MO, NJ, P, SC, TX, UT, VA)
Little Blue Heron (FL, MD, M, NJ, P, SC, TX)
Tricolored Heron (FL, LA, MD, M, SC, TX)
Bare-throated Tiger-heron (M)
Gray Heron (E, N, S)
Reddish Egret (FL, TX)
Purple Heron (S)
Cattle Egret (AR, AZ, FL, LA, MD, M, MO, NJ, OK, P, SA, S, TX)
Green Heron (AZ, CA, FL, LA, M, NJ, SC, TX, WA)
Striated Heron (P)
Black-crowned Night-heron (AZ, CA, C, CT, FL, IL, MA, MD, M, NJ, OH, P, SC, SA, TX, UT)
Yellow-crowned Night-heron (CT, FL, M, TX, VA)
White Ibis (FL, LA, M, SC, TX)
Glossy Ibis
White-faced Ibis (CA, M, MO, TX)
Hadada Ibis (SA)
Sacred Ibis (SA)
Eurasian Spoonbill (N)
Roseate Spoonbill (FL, TX)
Wood Stork (FL, M, SC, TX)
White Stork (S)
Black Vulture (AR, FL, IN, LA, MD, M, NC, NJ, OK, P, SC, TX, VA)
Turkey Vulture (AR, AZ, CA, C, CT, FL, GA, IA, IL, IN, LA, MA, MD, M, MI, MO, NC, NJ, NY, OH, OK, OR, SC, TX, VA, WV)
Lesser Yellow-headed Vulture (M)
Short-toed Snake-eagle (S)
Greater Flamingo (S)
Black-bellied Whistling-duck (M, TX)
Fulvous Whistling-duck (TX)
Bean Goose (N)
Pink-footed Goose (E)
Greater White-fronted Goose (CA, LA, MO, N, OK, TX)
Greylag Goose (E, N, S)
Emperor Goose
Snow Goose (CT, MD, NJ, NY, OK, OR, TX)
Canada Goose (AR, AZ, CA, C, CT, E, GA, IA, ID, IL, IN, MA, MD, MI, MO, NC, NJ, NY, OH, OK, OR, SC, VA, WA, WV)
Brant (CT, N, NJ)
Barnacle Goose (E, N)
Egyptian Goose (E, N, SA)
South African Shelduck
Common Shelduck (E, N)
Mute Swan (C, CT, E, MD, MI, N, NJ, S)
Trumpeter Swan (IA)
Tundra Swan (E)
Whooper Swan (N)
Spur-winged Goose (SA)
Wood Duck (CA, C, CT, IA, IL, IN, LA, MA, MD, MI, MO, NJ, OH, OK, SC, TX, VA, WA, WV)
Gadwall (AZ, CA, C, CT, E, IN, MI, MO, N, NJ, OH, OK, S, TX, VA, WA)
Eurasian Wigeon (CA, E, N, S)
American Wigeon (AR, AZ, CA, C, CO, CT, ID, IN, MI, MO, NJ, OH, OK, OR, TX, VA, WA)
Cape Teal
African Black Duck (SA)
American Black Duck (C, CT, IL, MD, MI, MO, NJ, VA)
Mallard (AR, AZ, CA, C, CO, CT, E, IA, ID, IL, IN, LA, MA, MD, MI, MO, NC, N, NJ, OH, OK, OR, S, TX, UT, VA, WA, WV)
Mottled Duck (FL, TX)
Yellow-billed Duck (SA)
Blue-winged Teal (AZ, CA, C, CT, FL, IA, IN, LA, M, MI, MO, OH, OK, TX, VA)
Cinnamon Teal (AZ, CA, P)
Cape Shoveler
Northern Shoveler (AZ, CA, C, E, MI, MO, N, NJ, OK, S, TX, UT, VA)
Red-billed Duck (SA)
White-cheeked Pintail (FL, P)
Northern Pintail (AR, AZ, CA, C, CT, E, ID, IN, LA, MI, MO, N, OH, OK, OR, TX, VA)
Garganey (N)
Common Teal (E, N, S)
Green-winged Teal (AZ, CA, C, CT, IA, IL, IN, LA, MD, MI, MO, NJ, OK, OR, TX, VA, WA)
Southern Pochard
Canvasback (C, IN, MI)
Redhead (AZ, C)
Common Pochard (E, N)
Ring-necked Duck (AZ, CA, C, IN, MI, UT)
Ferruginous Pochard
Tufted Duck (E, N)
Greater Scaup (CA, C, MD, N)
Lesser Scaup (CA, C, IA, MD, TX, VA)
Common Eider (N)
Harlequin Duck
Surf Scoter (CT, NJ, OR, VA, WA)
White-winged Scoter (N, OR)
Black Scoter (CT, MD, N, NJ, OR)
Long-tailed Duck (NJ)
Bufflehead (CA, IA, IN, MI, UT, WA)
Common Goldeneye (E, N)
Hooded Merganser (CA, MI, WA, WV)
Common Merganser (CA, ID, WA)
Red-breasted Merganser (C, IN, N, OR)
Ruddy Duck (AZ, CA, C, E, MI, UT, VA)
Maccoa Duck
Osprey (AZ, CA, C, CT, FL, IA, IL, IN, LA, MD, M, MI, NJ, NY, OH, OK, SC, S, TX, VA, WA)
European Honey-buzzard (S)
Black-winged Kite
White-tailed Kite (CA, OR, TX)
Snail Kite (M)
Mississippi Kite (M, OK)
Red Kite (E, S)
African Fish-eagle
Bald Eagle (AZ, CA, C, FL, IA, ID, IN, MD, MI, MO, NC, NJ, OR, SC, TX, VA)
Black-collared Hawk
Eurasian Marsh-harrier (E, N, S)
African Marsh-harrier
Northern Harrier (AZ, CA, C, CT, E, FL, GA, IN, MA, MD, M, MI, MO, N, NJ, NY, OH, OK, OR, S, TX, UT, VA, WA, WV)
African Harrier-hawk (SA)
Eurasian Sparrowhawk (E, N, S)
Sharp-shinned Hawk (AR, AZ, CA, C, CO, CT, FL, IA, IL, IN, LA, MA, MD, M, MI, MO, NC, NJ, NY, OH, OK, OR, SC, TX, VA, WA, WV)
Cooper's Hawk (AR, AZ, CA, C, CO, CT, FL, GA, IA, IL, IN, LA, MA, MD, M, MI, MO, NC, NJ, NY, OH, OK, SC, TX, VA)
African Goshawk (SA)
Northern Goshawk (C, N, S)
Gray Hawk (M)
Common Black-hawk (M)
Harris's Hawk (AZ, TX)
Great Black-hawk
Roadside Hawk (M)
Red-shouldered Hawk (CA, C, CT, FL, GA, IN, LA, MA, MD, MO, NJ, OH, OK, SC, TX, VA)
Broad-winged Hawk (FL, GA, LA, M, OK, TX, VA)
Short-tailed Hawk (FL)
Swainson's Hawk (M, TX
White-tailed Hawk (TX)
Zone-tailed Hawk (TX)
Red-tailed Hawk (AR, AZ, CA, C, CO, CT, GA, IA, IL, IN, LA, MA, MD, MI, MO, NC, NJ, NY, OH, OK, OR, SC, TX, VA, WA, WV)
Common Buzzard (N, S)
Ferruginous Hawk
Rough-legged Hawk (NY, OR)
Golden Eagle (CA, CO)
Booted Eagle (S)
Mountain Caracara (P)
Crested Caracara (M, P, TX)
Laughing Falcon
Eurasian Kestrel (E, N, S)
American Kestrel (AR, AZ, CA, C, CT, FL, IA, IL, IN, LA, MD, M, MI, NJ, NY, OH, OK, OR, P, SC, TX, UT, VA, WV)
Merlin (AZ, CA, C, CT, FL, IN, MA, M, MI, MO, NC, N, NJ, NY, TX, UT, VA, WA)
Eurasian Hobby
Aplomado Falcon
Peregrine Falcon (AZ, CA, CT, E, FL, IN, LA, MA, MD, M, N, NJ, OK, P, SC, SA, TX, VA)
Prairie Falcon (AZ, CA, OR, TX)
Plain Chachalaca (TX)
Chukar
Red-legged Partridge (E)
Cape Francolin (SA)
Gray Partridge (N)
Ring-necked Pheasant (E, MI, MO, N, NJ, S, UT, WA)
Ruffed Grouse (OH)
Sharp-tailed Grouse
Wild Turkey (CA, CT, IN, NC, OH, TX)
Helmeted Guineafowl (SA)
Scaled Quail
California Quail (CA, WA)
Gambel's Quail (AZ)
Northern Bobwhite
Black Rail
Clapper Rail (CA, CT, FL, SC, TX, VA)
King Rail
Virginia Rail (CA, TX, VA)
Water Rail (E, N, S)
Sora (CA, C, CT, NJ, TX)
Purple Swamphen (S)
Common Moorhen (AZ, CT, E, N, P, SA, S, TX)
Red-knobbed Coot
American Coot (AZ, CA, C, CT, ID, IN, MI, MO, OH, TX, UT, VA, WA)
Eurasian Coot (E, N, S)
Slate-colored Coot (P)
Limpkin
Sandhill Crane (FL, IL, IN, MI, TX, VA)
Common Crane (S)
Eurasian Thick-knee (S)
Northern Lapwing (E, N, S)
Blacksmith Lapwing
Black-bellied Plover (CA, CT, FL, MD, MI, N, SC, S, TX)
European Golden-plover (E, N)
American Golden-plover (OH)
Pacific Golden-plover
Snowy Plover (S, TX)
Wilson's Plover (TX)
Common Ringed Plover (N)
Semipalmated Plover (CA, CT, P, SC, TX)
Piping Plover (MI, TX)
Little Ringed Plover (S)
Killdeer (AR, AZ, CA, C, CO, FL, IN, LA, MD, MI, MO, NC, NJ, OH, OK, OR, P, TX, UT, VA, WA)
Three-banded Plover (SA)
American Oystercatcher (CT, FL, NJ)
Black Oystercatcher
Eurasian Oystercatcher (N)
Spotted Thick-knee (SA)
Black-winged Stilt
Black-necked Stilt (CA, FL, M, TX)
Pied Avocet (N)
American Avocet (CA, TX)
Northern Jacana (M)
Common Greenshank (E, N)
Greater Yellowlegs (AZ, CA, C, CT, IA, IN, MD, MI, MO, NJ, OH, OK, OR, P, SC, TX, VA)
Lesser Yellowlegs (CA, C, CT, IN, LA, MD, MI, MO, NJ, OH, OK, P, SC, TX, VA)
Common Redshank (N)
Spotted Redshank (N, S)
Wood Sandpiper
Green Sandpiper (E, N)
Solitary Sandpiper (CT, MD, NJ, SC, VA)
Willet (CA, CT, FL, SC, TX)
Wandering Tattler
Common Sandpiper (E)
Spotted Sandpiper (AZ, CA, CT, IN, MD, M, NJ, P, TX, VA, WA)
Whimbrel (CA, N, P)
Eurasian Curlew (N, S)
Long-billed Curlew (CA, TX)
Black-tailed Godwit
Bar-tailed Godwit (N)
Marbled Godwit (CA, TX)
Ruddy Turnstone (CT, E, FL, N, NJ, P, TX)
Black Turnstone
Surfbird
Red Knot (FL, N)
Sanderling (CT, FL, IN, MI, N, NJ, OR, P, TX)
Semipalmated Sandpiper (IN, SC)
Western Sandpiper (CA, FL, SC, TX)
Little Stint (N, S)
Temminick's Stint
Least Sandpiper (CA, CT, FL, IN, MI, NJ, OH, OK, OR, SC, TX, VA, WA)
White-rumped Sandpiper (CT, VA)
Baird's Sandpiper (TX)
Pectoral Sandpiper (CA, CT, IN, MI, OH, OK, P, VA)
Purple Sandpiper (N)
Dunlin (CA, C, CT, E, IN, MD, MI, N, NJ, OH, S, TX, VA)
Curlew Sandpiper (N)
Stilt Sandpiper (IN, OK, TX, VA)
Ruff (E, N, S)
Short-billed Dowitcher (CA, CT, SC, TX, VA)
Long-billed Dowitcher (CA, IN, MI, OK, OR, TX)
Jack Snipe
Common Snipe (E, N, S)
Wilson's Snipe (AR, AZ, CA, C, CO, CT, IL, IN, LA, MI, MO, NJ, NY, OH, OK, TX, UT, VA, WA)
Eurasian Woodcock
American Woodcock (CT)
Wilson's Phalarope (P)
Red-necked Phalarope (OR)
Pomarine Jaeger
Parasitic Jaeger (FL, N, NJ, OR)
Mediterranean Gull (N)
Laughing Gull (CT, FL, MD, M, NJ, SC, TX, VA)
Franklin's Gull (IA, IN, MO, P, TX)
Little Gull (N)
Black-headed Gull (E, N, S)
Bonaparte's Gull (CA, C, CT, IA, IN, MI, MO, OH, OR, WA)
Heermann's Gull (CA, OR)
Gray-hooded Gull (P)
Gray Gull (P)
Band-tailed Gull (P)
Mew Gull (CA, E, N, OR, WA)
Ring-billed Gull (CA, C, CT, IA, ID, IL, IN, MA, MD, MI, MO, NJ, NY, OH, OK, TX, UT, VA, WA)
California Gull (CA, OR, UT, WA)
Herring Gull (C, CT, E, FL, IA, IL, IN, MA, MD, MI, N, NJ, NY, OH, OR, SC, TX, UT, VA, WA, WV)
Yellow-legged Gull (E, N, S)
Thayer's Gull
Lesser Black-backed Gull (E, N, TX)
King Gull
Western Gull (CA, OR)
Glaucous-winged Gull (CA, OR, WA)
Glaucous Gull (MA)
Great Black-backed Gull (C, CT, E, FL, MA, MD, MI, N, NJ, VA)
Kelp Gull (P)
Black-legged Kittiwake (NJ)
Gull-billed Tern (TX)
Caspian Tern (CA, C, FL, IN, MD, MI, NJ, OH, OR, SC, S, TX, VA)
Royal Tern (CA, FL, MD, NJ, TX, VA)
Elegant Tern (CA)
Great Crested-tern
Sandwich Tern (FL, N, S, TX)
Common Tern (CT, IN, MD, N, NJ, TX)
Arctic Tern (N)
Forster's Tern (CA, CT, FL, MD, M, NJ, OK, SC, TX, VA)
Least Tern (FL)
Black Tern (S)
Inca Tern (P)
Black Skimmer (NJ, TX)
Common Murre (N, OR)
Razorbill
Marbled Murrelet (OR)
Rhinoceros Auklet (OR)
Rock Dove (CA, C, CO, CT, E, FL, IA, IL, IN, LA, MA, MD, MI, MO, N, NJ, NY, OH, OR, P, SA, S, TX, VA, WA, WV)
Speckled Pigeon (SA)
Stock Pigeon (E, N, S)
African Olive-pigeon (SA)
Common Wood-pigeon (E, N, S)
White-crowned Pigeon (FL)
Red-billed Pigeon (M)
Laughing Dove (SA)
Ring-necked Dove (SA)
Red-eyed Dove (SA)
Band-tailed Pigeon (CA, CO, WA)
Short-billed Pigeon (M)
Eurasian Collared-dove (E, FL, MO, N, S)
Spotted Dove
White-winged Dove (FL, M, NM, TX)
Mourning Dove (AR, AZ, CA, C, CT, FL, GA, IL, IN, LA, MA, MD, M, MI, MO, NC, NJ, NM, NY, OH, OK, SC, TX, UT, VA, WA, WV)
Pacific Dove (P)
Inca Dove (M, NM, TX)
Common Ground-dove (CA, FL, TX)
Ruddy Ground-dove (M)
White-tipped Dove (TX)
Monk Parakeet (CT)
Green Parakeet (TX)
Olive-throated Parakeet (M)
Red-crowned Parrot (TX)
Speckled Mousebird (SA)
White-backed Mousebird
Red-faced Mousebird
Burchell's Coucal (SA)
Red-chested Cuckoo (SA)
Klaas's Cuckoo (SA)
Dideric Cuckoo (SA)
Black-billed Cuckoo (NC)
Yellow-billed Cuckoo (CT, LA, TX)
Squirrel Cuckoo
Greater Roadrunner (AZ, CA)
Groove-billed Ani (M, TX)
Barn Owl (CA, S, TX)
Western Screech-owl (CA)
Eastern Screech-owl (C, CT, IN, LA, MI, NC, SC, TX)
Great Horned Owl (CA, C, CT, FL, IN, LA, MD, MI, MO, NC, NJ, OH, OK, TX, VA)
Spotted Eagle-owl (SA)
Northern Pygmy-owl (ID)
Ferruginous Pygmy-owl (TX)
Burrowing Owl (CA, OR)
Tawny Owl (E, N)
Barred Owl (CT, FL, GA, IN, LA, MA, MO, NC, OH, OK, SC, VA)
Short-eared Owl (N)
Little Owl (S)
Northern Saw-whet Owl
Lesser Nighthawk
Common Nighthawk (AR, LA, VA)
Antillean Nighthawk
Common Pauraque (TX)
Chuck-will's-widow (TX)
Whip-poor-will
Chimney Swift (C, CT, GA, IN, LA, MD, MI, OH, OK, SC, TX, VA, WV)
Vaux's Swift (CA)
Little Swift (SA)
Alpine Swift (SA)
Pallid Swift (S)
White-throated Swift (CA)
White-rumped Swift (SA)
Green-breasted Mango
Broad-billed Hummingbird
Rufous-tailed Hummingbird (M)
Buff-bellied Hummingbird (M, TX)
Ruby-throated Hummingbird (AR, C, FL, LA, M, NC, SC, TX)
Black-chinned Hummingbird (AZ, LA, NM, TX)
Anna's Hummingbird (CA, OR)
Broad-tailed Hummingbird (NM)
Rufous Hummingbird (NM, TX)
Allen's Hummingbird
Eurasian Hoopoe (S)
African Hoopoe (SA)
Common Kingfisher (E, S)
Half-collared Kingfisher
Brown-hooded Kingfisher (SA)
Giant Kingfisher (SA)
Ringed Kingfisher (M, TX)
Belted Kingfisher (AZ, CA, C, CT, FL, GA, IA, ID, IN, LA, MA, MD, M, MI, NC, NJ, OH, OK, OR, SC, TX, UT, VA, WA, WV)
Pied Kingfisher (SA)
Green Kingfisher (TX)
Lewis's Woodpecker (AZ)
Red-headed Woodpecker (AR, C, IN, LA, MO, NC, OH, OK, SC, TX, VA)
Acorn Woodpecker (AZ, CA)
Gila Woodpecker (AZ)
Golden-fronted Woodpecker (M, TX)
Red-bellied Woodpecker (AR, CT, FL, GA, IN, LA, MD, MI, MO, NC, NJ, NY, OH, OK, SC, TX, VA, WV)
Yellow-bellied Sapsucker (AR, CT, GA, IN, MD, NY, OK, SC, VA)
Red-naped Sapsucker
Red-breasted Sapsucker (CA)
Cardinal Woodpecker (SA)
Lesser Spotted Woodpecker
Great Spotted Woodpecker (E, N, S)
Ladder-backed Woodpecker (AZ, M, TX)
Nuttall's Woodpecker (CA)
Downy Woodpecker (AR, CA, CO, CT, FL, GA, IL, IN, LA, MA, MD, MI, MO, NC, NJ, NY, OH, OK, SC, TX, VA, WA, WV)
Hairy Woodpecker (CO, CT, GA, IN, MA, MD, MI, MO, NJ, NY, OH, OK, SC, TX)
Northern Flicker (AR, AZ, CA, C, CO, CT, FL, GA, IA, ID, IL, IN, LA, MA, MD, MI, MO, NC, NJ, NY, OH, OK, OR, SC, TX, UT, VA, WA, WV)
Pileated Woodpecker (AR, CA, FL, GA, IN, LA, MD, MO, NC, OH, OK, SC, TX, VA, WA)
Black Woodpecker
Eurasian Green Woodpecker (E, N, S)
Rufous-breasted Spinetail (M)
Wren-like Rushbird (P)
Olivaceous Woodcreeper (M)
Ivory-billed Woodcreeper
Barred Antshrike (M)
Slate-headed Tody-flycatcher
Common Tody-flycatcher (M)
African Paradise-flycatcher (SA)
Olive-sided Flycatcher (M)
Greater Pewee
Western Wood-Pewee (AZ)
Eastern Wood-pewee (MD, OH, TX)
Tropical Pewee (M)
Yellow-bellied Flycatcher (TX)
Acadian Flycatcher (LA, MD)
Alder Flycatcher (TX)
Least Flycatcher (SC, TX)
Hammond's Flycatcher
Gray Flycatcher
Dusky Flycatcher
Pacific-slope Flycatcher (CA)
Black Phoebe (AZ, CA)
Eastern Phoebe (AR, CT, FL, GA, IN, LA, MA, MD, M, MI, MO, NC, NJ, NY, OH, OK, SC, TX, VA)
Say's Phoebe (CA)
Vermilion Flycatcher (LA, M, P, TX)
Dusky-capped Flycatcher (M)
Great Crested Flycatcher (M)
Brown-crested Flycatcher
Great Kiskadee (M, TX)
Social Flycatcher (M)
Tropical Kingbird (M, P)
Couch's Kingbird (M, TX)
Cassin's Kingbird (CA)
Western Kingbird (TX)
Eastern Kingbird (FL, MO, TX)
Gray Kingbird (FL)
Scissor-tailed Flycatcher (AR, LA, M, TX)
Fork-tailed Flycatcher (M)
Rose-throated Becard (M)
Loggerhead Shrike (FL, OK, TX)
Northern Shrike (N)
Common Fiscal (SA)
Fork-tailed Drongo (SA)
Southern Boubou (SA)
Bokmakierie Bushshrike (SA)
Cape Batis (SA)
White-eyed Vireo (FL, GA, LA, M, NC, SC, TX)
Yellow-throated Vireo (TX)
Plumbeous Vireo (NM)
Blue-headed Vireo (CT, MA, NC, OH, TX)
Hutton's Vireo (CA)
Warbling Vireo (M)
Philadelphia Vireo
Red-eyed Vireo (FL, GA, MD, M, NC, SC, VA)
Black-whiskered Vireo
Eurasian Jay (E, N, S)
Gray Jay
Steller's Jay (AZ, CA, CO, OR, WA)
Blue Jay (AR, C, CO, CT, FL, GA, IA, IL, IN, LA, MA, MD, MI, MO, NC, NJ, NY, OH, OK, SC, TX, VA, WV)
Green Jay (TX)
Brown Jay (M, TX)
Western Scrub-jay (CA, CO, OR, TX)
Mexican Jay
Pinyon Jay
Eurasian Magpie (E, N, S)
Black-billed Magpie (CO, WA)
Yellow-billed Magpie (CA)
Eurasian Jackdaw (E, N, S)
American Crow (AR, AZ, CA, C, CO, CT, FL, GA, IA, IL, IN, LA, MA, MD, MI, MO, NC, NJ, NY, OH, OK, OR, SC, TX, VA, WA, WV)
Rook (E)
Northwestern Crow
Fish Crow (AR, CT, FL, GA, LA, MA, MD, NJ, OK, SC, VA)
Carrion Crow (E, N)
Hooded Crow (N)
Pied Crow (SA)
Chihuahuan Raven
Common Raven (AZ, CA, CO, ID, MA, NC, OR, S, TX)
White-necked Raven
Tinkling Cisticola (SA)
Zitting Cisticola (S)
Karoo Prinia (SA)
Pale White-eye (SA)
Cetti's Warbler (E, S)
African Bush-warbler (SA)
African Reed-warbler (SA)
Lesser Swamp-warbler (SA)
Northern Chiffchaff (N, S)
Bearded Parrotbill (E, N)
Blackcap (N, S)
Sardinian Warbler (S)
Crested Lark (S)
Wood Lark (N)
Sky Lark (E, N, S)
Horned Lark (C, IN, MA, MO, OH, TX)
Amethyst Sunbird (SA)
Southern Double-collared Sunbird (SA)
Tree Swallow (CA, C, CT, FL, IN, LA, MA, MD, M, MO, NJ, OH, SC, TX, UT, VA)
Mangrove Swallow (M)
Violet-green Swallow (AZ, CA)
Northern Rough-winged Swallow (AZ, CA, IN, LA, MD, M, NJ, TX, VA)
Plain Martin (SA)
Rock Martin (SA)
Bank Swallow (S, TX)
Cliff Swallow (AZ, M, TX)
Cave Swallow (TX)
Barn Swallow (AZ, CA, CT, E, FL, IN, LA, M, MO, N, NJ, OH, OR, P, S, TX)
White-throated Swallow (SA)
Pearl-breasted Swallow (SA)
Greater Striped-swallow (SA)
Common House-martin (E, N, S)
Marsh Tit (N)
Willow Tit (N)
Carolina Chickadee (AR, FL, GA, IN, LA, MD, NC, OH, OK, SC, TX, VA, WV)
Black-capped Chickadee (CO, CT, IA, ID, MA, MI, MO, NJ, NY, OH, OR, UT, WA)
Mountain Chickadee (CO)
Chestnut-backed Chickadee (CA, OR)
Coal Tit (N)
Crested Tit
Great Tit (E, N, S)
Blue Tit (E, N, S)
Bridled Titmouse
Oak Titmouse (CA)
Tufted Titmouse (AR, CT, FL, GA, IN, LA, MA, MD, MI, MO, NC, NJ,NY, OH, OK, SC, TX, VA, WV)
Black-crested Titmouse (TX)
Long-tailed Tit (E, N, S)
Verdin (AZ)
Eurasian Penduline-tit (S)
Bushtit (CA)
Eurasian Nuthatch (N, S)
Red-breasted Nuthatch (CO, ID, WA)
White-breasted Nuthatch (AR, CA, CO, CT, GA, IN, MA, MD, MO, NC, NY, OH, OK, SC, VA, WV)
Pygmy Nuthatch (AZ, CO, WA)
Brown-headed Nuthatch (GA, TX)
Eurasian Tree-creeper (E)
Brown Creeper (AZ, CA, CT, MD, MI, VA)
Short-toed Tree-creeper (N)
Cactus Wren (AZ)
Rock Wren (CA, CO)
Band-backed Wren
Canyon Wren (CO, TX)
Spot-breasted Wren
Carolina Wren (AR, C, CT, FL, GA, IN, LA, MA, MD, MI, MO, NC, NJ, NY, OH, OK, SC, TX, VA)
Bewick's Wren (CA, TX, WA)
House Wren (CA, FL, MD, M, P, SC, TX)
Winter Wren (E, ID, MD, N, OR, S, WA)
Sedge Wren (TX)
Marsh Wren (AZ, CA, C, CT, MD, MI, OK, TX, WA)
American Dipper
Cape Bulbul (SA)
Sombre Greenbul (SA)
Firecrest (N)
Golden-crowned Kinglet (AR, CA, C, CT, IN, MD, MI, OH, OR, SC, VA)
Ruby-crowned Kinglet (AR, AZ, CA, C, CO, CT, ID, LA, MA, MD, MI, NC, NJ, NM, NY, OH, OK, OR, SC, TX, UT, VA, WA)
Goldcrest (E, N)
Eurasian Reed-warbler (N)
Blue-gray Gnatcatcher (CA, CT, FL, LA,M, TX)
California Gnatcatcher (CA)
Dusky Alseonax (SA)
European Robin (E, N, S)
Northern Wheatear
Familiar Chat
Cape Robin-chat (SA)
Black Redstart (N, S)
Whinchat
Stonechat (E, N, S)
Eastern Bluebird (AR, CT, FL, GA, IL, IN, LA, MA, MD, MI, MO, NC, OH, OK, SC, TX, VA)
Western Bluebird (AZ, CA, CO)
Mountain Bluebird (CO)
Brown-backed Solitaire
Townsend's Solitaire (CO)
Veery (FL, SC)
Gray-cheeked Thrush (FL, NJ, SC)
Bicknell's Thrush (NJ)
Swainson's Thrush (AR, FL, MD, NC, NJ, OH, SC, VA)
Hermit Thrush (CA, C, CT, IN, MI, NJ)
Wood Thrush (GA, LA, OH, SC, TX)
Olive Thrush (SA)
Ring Ouzel (N)
Eurasian Blackbird (E, N, S)
Fieldfare (E, N)
Redwing (E, N)
Song Thrush (E, N)
Mistle Thrush (E, N, S)
Clay-colored Robin
American Robin (AR, AZ, CA, C, CO, CT, GA, IA, ID, IL, IN, LA, MA, MD, MI, MO, NC, NJ, NY, OH, OR, SC, UT, VA, WA, WV)
Varied Thrush
Wrentit (CA, OR)
Gray Catbird (AR, CT, FL, GA, IL, LA, MA, MD, MI, NJ, OH, SC, TX, VA)
Northern Mockingbird (AR, CA, CT, FL,GA, LA, MA, MD, NJ, NY, OH, OK, SC, TX, VA)
Blue Mockingbird
Brown Thrasher (AR, FL, GA, LA, MD, NJ, SC, TX, VA)
Long-billed Thrasher (TX)
Curve-billed Thrasher (AZ, NM, TX)
California Thrasher (CA)
Red-winged Starling (SA)
European Starling (AR, CA, C, CO, CT, E, FL, GA, IA, ID, IL, IN, LA, MA, MD, MI, MO, NC, N, NJ, NM, NY, OH, OK, OR, SA, S, TX, VA, WA, WV)
Yellow Wagtail (N)
Gray Wagtail (E, N, S)
White Wagtail (E, N, S)
Cape Wagtail (SA)
Red-throated Pipit (N)
Tree Pipit (N)
Richard's Pipit (N)
Meadow Pipit (E, N, S)
Rock Pipit (E, N)
Water Pipit (N)
American Pipit (CA, C, CT, IN, MD, MI, OK, OR, TX, UT)
Bohemian Waxwing (N)
Cedar Waxwing (AR, CA, C, CT, IL, IN, LA, MA, MD, MI, NJ, NY, OH, OR, TX, UT, WA)
Phainopepla
Golden-winged Warbler (TX)
Tennessee Warbler (GA, IA, OH, TX)
Orange-crowned Warbler (AZ, CA, C, M, MI, OK, TX, WA)
Nashville Warbler (AR, IN, MI, MO, OK, TX, VA)
Northern Parula (FL, M, NJ, OK, TX, VA)
Tropical Parula (M)
Yellow Warbler (AZ, CA, FL, M, TX)
Chestnut-sided Warbler (TX)
Magnolia Warbler (CT, M, NJ, TX)
Cape May Warbler (FL, NJ)
Black-throated Blue Warbler (FL, NC, NJ, SC, VA)
Yellow-rumped Warbler (AR, AZ, CA, C, CO, CT, GA, IA, IL, IN, LA, MA, MD, M, MI, MO, NC, NJ, NY, OH, OK, OR, TX, UT, VA, WA, WV)
Black-throated Gray Warbler (CA)
Black-throated Green Warbler (AR, CT, GA, LA, MD, M, NC, OH, OK, TX, VA)
Townsend's Warbler (AZ, CA)
Yellow-throated Warbler (FL, GA, SC, TX)
Pine Warbler (FL, GA, NY, SC, TX, VA)
Prairie Warbler (FL)
Palm Warbler (CA, C, CT, FL, GA, IN, MA, MD, MI, NC, NJ, NY, OH, TX, VA, WV)
Bay-breasted Warbler (AZ)
Blackpoll Warbler (CT, MD, NJ, VA)
Black-and-white Warbler (CT, GA, MD, M, NJ, TX, VA)
American Redstart (FL, GA, MD, M, NJ, SC, TX, VA)
Ovenbird (FL, NJ, TX)
Northern Waterthrush (FL, LA, M, NJ)
Common Yellowthroat (AZ, CA, C, CT, FL, GA, LA, MA, MD, M, NJ, SC, TX, VA, WV)
Gray-crowned Yellowthroat (M)
Hooded Warbler (GA, M, TX)
Wilson's Warbler (M, NM, TX)
Canada Warbler (M, TX)
Painted Redstart
Yellow-breasted Chat (M, TX)
Hepatic Tanager
Summer Tanager (AR, GA, LA, OK, SC)
Blue-gray Tanager (M)
Scarlet Tanager (GA, OH)
Western Tanager (CA)
Yellow-winged Tanager (M)
Scrub Euphonia (M)
Blue-black Grassquit (M)
White-collared Seedeater (M)
Olive Sparrow (TX)
Green-tailed Towhee
Spotted Towhee (CA, CO, OR, TX, UT, WA)
Eastern Towhee (CT, FL, GA, IN, LA, MD, MO, NC, NY, OH, SC, VA, WV)
Canyon Towhee
California Towhee (CA)
Abert's Towhee (AZ)
Rufous-crowned Sparrow
American Tree Sparrow (CT)
Chipping Sparrow (AZ, CA, C, CO, CT, MA, MD, MO, NC, NJ, OH, VA)
Clay-colored Sparrow (MD, TX)
Brewer's Sparrow
Field Sparrow (C, CT, MA, MD, MO, NC, NJ, OH)
Vesper Sparrow (MI)
Lark Sparrow (TX)
Black-throated Sparrow
Savannah Sparrow (CA, CT, FL, MA, MD, NJ, OK, OR, TX, VA)
Grasshopper Sparrow (NJ)
Nelson's Sharp-tailed Sparrow (CT, MO)
Saltmarsh Sharp-tailed Sparrow (CT)
Seaside Sparrow
Fox Sparrow (CA, OR)
Song Sparrow (AZ, CA, C, CT, ID, IL, IN, MA, MD, MI, MO, NC, NJ, NY, OH, OR, TX, UT, VA, WA, WV)
Lincoln's Sparrow (AR, CA, IL, MD, MO, OH, TX, WA)
Swamp Sparrow (C, CT, GA, L, MD, MI, MO, NJ, OH, OK, TX, VA)
White-throated Sparrow (AR, C, CO, CT, IN, LA, MA, MD, MI, MO, NC, NJ, NY, OH, TX, VA)
Harris's Sparrow
White-crowned Sparrow (AZ, CA, CO, CT, FL, MA, MI, MO, NJ, NM, NY, OH, OR, TX, UT)
Golden-crowned Sparrow (CA, OR)
Dark-eyed Junco (AZ, CA, CO, CT, IL, IN, MA, MD, MI, MO, NC, NY, OH, OR, UT, WA)
Yellow-eyed Junco
Yellowhammer (E)
Lapland Longspur (N)
Little Bunting
Reed Bunting (E, N, S)
Corn Bunting (E)
Snow Bunting
Grayish Saltator (M)
Northern Cardinal (AR, AZ, C, CT, FL, GA, IN, LA, MA, MD, MI, MO, NC, NJ, NY, OH, OK, SC, TX, VA, WV)
Pyrrhuloxia (TX)
Rose-breasted Grosbeak (FL, GA, LA, MD, NC, SC, TX)
Black-headed Grosbeak (CA, TX)
Blue Grosbeak (OK, VA)
Lazuli Bunting
Indigo Bunting (AR, FL, GA, LA, M, NC, NJ, OH, OK, SC, TX, VA)
Varied Bunting
Painted Bunting (FL, SC, TX)
Dickcissel (MD, NJ, TX)
Bobolink (FL, MD, NJ, SC)
Red-winged Blackbird (AR, AZ, CA, C, CO, CT, FL, GA, IA, ID, IL, IN, LA, MA, MD, M, MI, MO, NJ, NM, NY, OH, OK, OR, SC, TX, UT, VA, WA, WV)
Tricolored Blackbird (CA)
Yellow-hooded Blackbird (P)
Eastern Meadowlark (AR, CT, GA, IN, MD, M, NY, OK, TX, WV)
Western Meadowlark (AZ, CA, CO, OR, UT)
Yellow-headed Blackbird (AZ, CA, IA)
Rusty Blackbird (C, CT, IL, MI)
Melodious Blackbird (M)
Brewer's Blackbird (AZ, CA, MI, OR, WA)
Common Grackle (AR, C, CT, FL, GA, IA, IL, IN, LA, MD, MI, MO, NJ, OH, SC, TX, VA, WV)
Boat-tailed Grackle (FL, MD, NJ, SC, TX)
Great-tailed Grackle (AZ, CA, M, TX)
Shiny Cowbird (P)
Bronzed Cowbird (M, TX)
Brown-headed Cowbird (AR, CA, CT, FL, GA, IL, LA, MD, MI, MO, NY, OH, SC, TX, VA)
Orchard Oriole (M)
Hooded Oriole (TX)
Bullock's Oriole
Altamira Oriole (M, TX)
Audubon's Oriole
Baltimore Oriole (FL, LA, M, VA)
Scott's Oriole
Common Chaffinch (E, N, SA, S)
Brambling (E, N)
European Serin (N, S)
Cape Canary (SA)
Purple Finch (CT, OH, OR)
Cassin's Finch (CO)
House Finch (AR, AZ, CA, CO, CT, FL, GA, ID, IL, IN, LA, MA, MD, MI, MO, NC, NJ, NM, OH, OR, SC, TX, UT, VA, WA)
Red Crossbill (N)
White-winged Crossbill
Common Redpoll (E, N)
Twite
Eurasian Linnet (E, N, S)
European Greenfinch (E, N, S)
Eurasian Siskin (E, N)
Pine Siskin (CO, ID, OR, UT)
Lesser Goldfinch (CA, CO, TX)
Lawrence's Goldfinch
American Goldfinch (AR, CA, C,CO, CT, GA, IL, IN, MA, MD, MI, MO, NC, NJ, NY, OH, OK, OR, SC, TX, UT, VA, WA, WV)
European Goldfinch (E, N, S)
Eurasian Bullfinch (E, N)
Evening Grosbeak
Hawfinch (N)
House Sparrow (AZ, CA, CT, E, FL, IA, IL, IN, LA, MA, MD, MI, MO, N, NJ, NM, NY, OH, OK, P, S, TX, VA, WA)
Mossie
Cape Sparrow (SA)
Eurasian Tree Sparrow (N, S)
Hedge Accentor (E, N, S)
Cape Weaver (SA)
Southern Masked-weaver (SA)
Red-billed Quelea
Red Bishop (SA)
Common Waxbill (SA)
Pin-tailed Whydah (SA)
---
John Tate – Macon, MO
A sunny day, but COLD for our Big Sit. A cold front dropped through Macon yesterday and dropped temperatures 25 degrees!! At 1 pm it was 48 degrees. By 3pm the NW winds had picked up and birds disappeared and we closed shop for the day. Lunch was served by Cleo and was Chili and freshly baked apple pie.
While we did not see many birds, we did have a nice visit. The Cook's Golden Lab, Sally, spent the day asleep and seemed to enjoy the cooler fall weather. Thanks for the opportunity to participate.
Robin Carter – Fort Motte, SC
Today members of the Columbia Audubon Society sat the Big Sit at the hawkwatch platform at Congaree Bluffs Heritage Preserve, near Fort Motte, Calhoun County, SC. We found 50 species, which was up from 38 species last year. The best bird of the day was a "Red-shafted" Northern Flicker, which was one of dozens of flickers moving past the platform.
The weather was overcast, warm (up to 80 F.), and calm, with a few light showers over the course of a couple of hours at mid day. This resulted in a poor hawk flight (we counted as migrants only a Red-tailed Hawk, a Sharp-shinned Hawk, and 5 Turkey Vultures), but we made up for it with a good showing of passerines and woodpeckers. The pre-dawn listening for nocturnal flight calls was excellent, and resulted in a very good showing of thrushes, plus a Bobolink.
Terry Brodner – Pheonix, AZ
The 2002 Tres Rios Big Sit was successful, considering it was my first birding outing since they broke my neck, hip, and pelvis in the car accident in Feb. 2002! The weather was absolutely beautiful; 88 degrees, partly cloudy, but, yes, I did get sunburned – a nice rosy glow, with hot flashes! (Too bad we didn't have a storm to downfall more warblers.) The sit was on 91st Avenue West of Phoenix, at the effluent stream from the Water Reclamation Project. I only lasted 6 hours, and left after the loud bass music from the nearby cars drove the birds and me into hiding! I think the birds were taking their siestas anyway and I know I was ready for my siesta. Our Sit Group: "The Amigos At Tres Rios" consisted of yours truly and two casual observers Bob McDonald and his "bird" dog Daisy, who spotted a few extra species for me. Thanks, Bob. I guess the best bird was a light-morph Merlin, since I have become Blase about the ubiquitous Neotropic Cormorants there.
Tony Gallucci – Ingram, TX
Notes:
1) while I chose the location with maximum species in mind, lots of visibility, and some of the better water in our water-scarce county, I also focused on having a place where I could append good herptile, lepidoptera and odonata lists. the cold front put the kibosh on that. of our three endemic turtle species (all of which I had stakeout sunning logs for) only the Texas Slider was seen and that from surfacing. not a single odonate was seen, and the only butterflies were Monarchs, though there must have been thousands going over. I counted them when I wasn't occupied by the abundant birds, but my total must have been only a fraction of what was there.
2) the weather also probably kept down the numbers of passerines identified, though plenty were going over. I'll check tomorrow to see what else dropped in. I had predicted 30 species for my Big Sit location, but doubled that, all because of the serendipitous front passage that loaded us up with raptors and seldom-seen aquatic species.
3) the two most interesting misses were a) House Finch, which is not only a common year-round resident here, but has also been a featured migrant the past week; and b) our most common nesting raptor, of all things, was not seen – Red-shouldered Hawk.
4) perhaps the most interesting observations were the numbers of Northern Harrier and Ring-billed Gull. I don't have a single other record for more than one harrier in a day; nor do I have records for more than one Ring-bill in a day since the demise of the Kerrville sewage ponds 15 years ago.
5) I'd like to note that I never left the circle during the daylight hours (except for a period of about two hours for business) to check ID's or for anything else.
Tom Kilroy – Lighthouse Pt. Park, New Haven, CT
Heard in the circle : "The breakfast and lunch were much better than the weather." "Where's Nick? I thought he was coming for breakfast." Where did nick go? Is the Giants game on this early?"
Hugh Kingery – Franktown, CO
Our location on our roof occupied the area of two pieces of plywood, one 5 x 10, the other about 2 x 4 (feet). The scope stood beside the big piece of plywood. From our vantage point we can see 2-5 miles to the south, east, and north, and half a mile to the west. We actually occupied a smaller dimension than a 17-foot circle. The menu included brownies, yogurt, pears, and sandwiches.
Following the rather liberal rules about counting birds, we used a beater. While Karen and I stayed on the roof with binoculars and scope, Urling walked down to the pond. We had already seen 6 Mallards on the pond, but Urling, communicating by telephone (since our walkie talkies haven't ever worked), called to report a pair of wigeons, which Karen and I did see and identify. Then she saw a Vesper Sparrow, but we couldn't see it at all. Then–she flushed a snipe, which flew along the side of the pond. After about 5 minutes of telephone discussion in order to agree on the identity of the various marker points so as to locate the snipe, Urling walked along the shore of the pond to flush the bird. She did, and through the scope we saw it light in two places and then fly across the pond. She flushed a second one, and then re-flushed the first one, which we saw again.
We also watched 5 minutes of interaction among a crow, a magpie, and a sharp-shinned hawk, the hawk and the corvids diving at each other. AND, the best according to Urling, a red-tailed hawk flew by the cliff, carrying a long, skinny snake in his beak! We identified the snake as a western terrestrial garter snake.
Jennifer Rycenga – Palo Alto, CA
At about 10 am, a vicious Western Gull (apparently in need of anger management counseling) attacked a Double-crested Cormorant over a fish. After the obligatory pecking at the back, the Western Gull did its level best to drown the Cormorant! It failed, I am happy to report. Throughout the day, Jeanine and I served as ambassadors for birding in general and the Big SIT! in particular. Visitors to this highly visible spot (the end of a boardwalk overlooking the lower San Francisco Bay) included some beginning birders, families (I could regale you with examples
of bad parenting…), children (who were graciously allowed to use the scope), lovers, dogs, and more. The ranger from the Baylands Environmental Center was very supportive of this venture, and was glad to be acquainted with the Big SIT! Indeed, many people seemed captivated by the idea of slightly wacked people SIT!ting around the world simultaneously, for the birds.
While we didn't see any rare species per se, the gull species numbers were up considerably from last year, and because we were there through a complete tide change from high to low and starting back in the other direction, we got a wide variety of shorebirds at close range. Probably the Heermann's and Mew Gulls were the rarest for this location, but they are common enough in Northern California at this season.
Brenda Best – Durhamville, NY
There was little migration in evidence. A few low raptors were headed in various directions, sparrows hung around for the day (it was great watching white-crowneds in the birdbath), only two Ruby-crowned Kinglets appeared in the brush, five different flocks of robins flew past that amounted to a total of 41, and several small skeins of Canada Geese went by. Highlights included a large flock of Meadowlarks in the field at the airport (I saw 16 at one time perched on the wires, but I believe there were more than that), a flock of about 500 starlings flying in a "ball" with a Red-tailed Hawk, a single fly-over snipe, and a gorgeous Rough-legged Hawk.
Carl Haynie – Sammasih, WA
The park is closed to vehicular traffic when under the cover of darkness, but I wanted to see about getting an owl or two, so on a dark moonless, foggy night, I trudged out to the circle with flashlight in hand (a bit scary!). Came up empty on owls but had a good time. Recorded a Clark's Grebe which was new to the list I've compiled of Lake Sammamish State Park birds (http://www.pluggablelogic.com/aves/lssp).
David Arbour – Red Slough, OK
Despite the weather we had a really good count! A strong, north wind had stimulated an incredible migration movement of geese, hawks, pelicans, cormorants, and passerines which kept us very busy all day. The observation platform we sat on was bordered on the north side by bottomland hardwood forest and on the south by a open wetland area. We were at the southeast corner of the woodland area which acted as a funnel concentrating all the migrating passerines right on top of us. Thousands of warblers (mostly Yellow-rumpeds) and hundreds of Blue Jays, Flickers, and other birds streamed past us in the woodland. As they reached the corner of the woodland (tip of the funnel) they would then take off to the southeast across the open wetland. The wetland area was full of ducks and shorebirds which frequently were flushed up by various raptors. The skies overhead had a steady stream of hawks, geese, cormorants, and pelicans passing over. It truly was an incredible day!
Jesse Fagan – Nacogdoches, TX
I felt this was a great day to be out birding. The first major cold front of the year, OH YEAH! All day we detected Greater White-fronted Geese and American White Pelicans going over. A few accipiters were detected and we had a late Black-and-white Warbler. The highlight of the day came when Georgette and I watched a Bald Eagle harassing a Forster's Tern. I didn't think much of it; as I figured the Forster's Tern would move on or the Bald Eagle would tire in chasing the much more agile tern. However, to our amazement, the Bald Eagle caught the tern from behind with its large talons and crossed the lake (carrying the tern!) and disappeared into the forest.
Charles Brower – Quintana, TX
The evening before, Ken West, Phil Huxford, and myself erected a 12′ scaffold. I arrived shortly before six AM, and flushed a Barn Owl as I entered the circle. Thus we tallied our first bird. Shortly afterward Tom Collins arrived, and took his post on the scaffold, in short order, Steve Gross, Ken West, Phil Huxford, and Ron Weeks arrived. We settled in and started adding birds. We were expecting a cold front with rain to arrive. It didn't. Later in the day Olivia Brower, Ian Hartzler, and Deanna Francis. Even without the front we tallied more species than ever before. We ended at seven PM, when Deanna Francis and myself saw a Black-chinned Hummingbird for out 92nd species. A lot of these birds would not have been seen with out the scaffold we use. Each year it is loaned to us by Dan Holy and Miken Specialties Ltd. We are grateful for their support.
Anne Shelton – Webster, TX
I saw a Red-shouldered hawk flying down the gravel road in the back field. It was flying low and slow, like it was hunting. I glassed the area to see where the hawk might have landed. In doing so, I saw a Red-tailed hawk on top of a telephone pole. This was odd, since the Red-tailed hawks usually hang out at the top of one of the huge highline towers that march across the field. As I took a closer look at the Red-tailed, I saw it was feeding… on a squirrel. I watched, alternating through the scope and the binos, as it fed for about an hour. I saw another Red-tailed on the closest highline tower and after awhile it too landed on one of the telephone poles cross beams. The second Red-tailed didn't get any of the squirrel. As Red-tailed hawk one ate and Red-tailed hawk two watched, I saw a White-tailed hawk swoop across my field of vision. What the h? Swoop, swoop! Suddenly, there are two White-tailed hawks buzzing the Red-taileds! Red-tailed hawk one grabbed up the remains of the squirrel, glided to another telephone pole, and continued to eat. Meanwhile, Red-tailed hawk two returned to the highline tower. As dusk descended in earnest, one of the white-tailed hawks monitored from a different highline tower.
George Chaniot – Ukiah, CA
The morning started off as usual with a stunning view of Orion and Canis Major over the lake, and, this year, the moons of Jupiter served to warm up the spotting scopes. There was a bit of a chilling north wind before light, but a Great Horned Owl and a Western Screech-Owl tuned up nicely, and the Screech-Owl even came in to the nearest tree. Each year we have a subcontest going to see how many species we can record before sunup. This year we thought we were doing badly since we only had 43 (record 48). The day unfolded nicely. Reveille sounded at 7:00 as there was a camporee with 973 young Pathfinders taking place right next to our site. Despite fears, the camporee did not interfere with our birdfinding. Through the day the scoping conditions were very good with very little heat distortion. We kept finding new species during each hour of the day, and at sundown we had tallied 86 species – exactly twice the sunrise number. This is a new record for us; the previous record was 81. Have we moved the bar too high now, or does this circle have the potential for a 90-species day? Our cumulative total is now 108 species. As usual The Big Sit = A Fine Fall Day of birding, camaraderie, and comestibles, but I went home with a serious case of scope-eye.
Tom Hince – Essex Co, Ontario
I've done a few big sits before but I'm not likely to forget this one. Why? Because I got the date wrong! For some reason I got it in my head that the event was on Saturday. So I packed up my gear in the wee hours of Saturday morning and made the 45 minute drive to the tower. I could only stay until noon, but still managed to tally a respectable 87 species. As I was leaving the tower my cell phone rang and it was friend Paul Pratt checking to see how I had fared. After I told him, he chuckled that he had checked the website out and that the event was on SUNDAY! I couldn't believe it, but sure enough when I got home I immediately verified his news. Fortunately on Sunday Paul was able to help me out with the sit, as I had to help out with some important family matters that weekend. So again on Sunday morning I got up early and made the trek to the tower. This time the weather was miserable (cold, windy, rain) and as I stood in the darkness I wondered what I was doing there! The morning before I had tallied two owls, two thrushes and American bittern before first light, but it was nice and still and warm then. In the cold driving rain, on the right day, I did manage to whistle in screech owl and hear great horned, so it was still well worth the effort. As the morning progressed it became clear that activity was much slower than the day before, especially for songbirds. On the other hand bay ducks had moved into the area in good numbers after the passage of the cold front. In mid morning Paul came and spelled me off as I had to leave for to help out with planning for the funeral of a family member. Then later in the afternoon hawk counter Bob Hall-Brooks added three more nice birds. In the end the tally of 83 species was quite respectable. Still on a good day on this date 100 species is clearly possible (in late September I've recorded 106 species from the tower in a morning).
Georgette Guernsey – 2 circles, TX
JT, I watched at Kurth Lake from 7:00 am to 9:20 am, went to church, played the piano, raced home and watched from my back patio from 11:00 am to 1:30 PM when the drizzle become heavy. I was out again between 6:00 PM and dark which occurred at about 7:00.
The land at Kurth Lake is privately owned by Abitibi Paper Mill and those of us from Lufkin have keys to the location through the hard work of the county compiler. The reason I was there was she was concerned that if we were not represented, the paper mill might be upset. The other watchers were from the Pineywoods Audubon Society in Nacogdoches of which we are all members. Kurth Lake is one of the few areas we are allowed to bird freely so we guard the privilege carefully.
Chris Obaditch – San Joaquin Wildlife Sanctuary, CA
Due to the lack of mud in a lot of the ponds, we changed our location from where we had been last year to where we were 2 years ago. Our best birds were probably the Merlin and Peregrine which though they are often in the area are rather hit or miss. The juvenile Pectoral Sandpiper which stayed around all day was a nice surprise. We had 3 other species in the area but could not see or hear them from our site unfortunately. Perhaps the neatest sightings were non birding. I was sitting listening in the dark about 6:15 when a coyote came out the reeds of one pond, walked across the path about 10 yds in front of me and then went down in the reeds of the shorebird pond. Later in the morning, Bruce had a fleeting glimpse of a long-tailed weasel as it disappeared into the reeds from a path.
David McCauley – Veracruz, Mexico
The ancient gods of Mexico smiled on "The Big Sit" 2002 in Tlacotalpan Veracruz Mexico. We started counting species at 7a.m. until 6:30 p.m. The day was sunny with some mixed clouds and a gentle breeze coming from the north-northeast most of the day. We counted 41 species in the first hour between 7 and 8a.m. and 16 more species in the second hour. The rest of the day was work. Thanks to the participation of Tim Smart, who was able to get a day off from the famous Veracruz hawk watch in Cardel Veracruz where he has been working since August as a raptor counter, we were able to pick up some migrating raptors that could have been missed.
Bill Thompson III – Whipple, Ohio
It was a dark and stormy night. At least it was from midnight until 6:10 a.m., when the rain finally stopped. I pulled on my stylish Big Sit! T-shirt, grabbed coffee and optics, and began the 2002 Indigo Hill Birding Tower Big Sit! in earnest. I checked several times during the night but the pounding rain eliminated any hope of night bird sounds being heard.
An eastern towhee chewinked at 6:25 and we were off to the races. By 7:30 I had been joined by Steve McCarthy. We already had 25 species, and were busy chewing on the day's first pepperoni rolls (Breakfast of Big Sit Champions) which Steve had provided. Throughout the day fellow IHBT Big Sitters arrived, some bearing food (apple crisp, muffins, chips, jerky) some just showing up for a spell in the tower and the warm camaraderie of dedicated bird watchers. James R. Hill, III from the Purple Martin Conservation Association drove four hours from Erie, Pennsylvania to participate. Alas, he did not bring any purple martins with him.
The rain spit on us a few times–sort of like having Daffy Duck deliver a long speech right in your face, but we were undeterred. The cold front that had blasted our area the night before carried many migrants past the tower. New arrivals of the fall included both kinglets, white-throated and white-crowned sparrows, junco, a swamp sparrow. By 2 p.m. the front cleared out and the blue sky and sunshine took over. It was an incredible raptor flight day. We tallied more than 50 red-tailed hawks, and perhaps 200 turkey vultures. Many sharpies, Coop's, and a few kestrels zipped past, an osprey and a female northern harrier were tallied as they headed south.
By late afternoon we realized that this Sit was going to be a good one. Last year's total of 44 species was already in our rear-view mirror. But then we had a moment of panic. As we scanned the skies for migrant hawks, Jeanette Esker spotted a flock of 8 or so white and black birds. I got my binocs on them (initial ID was snow geese–a new Sit species and new for our property list, too) and quickly shouted for Julie and my fellow Sitters to "get on" these birds. As I grabbed the scope to nail the birds' ID, I could not find them. Neither could Jeanette, nor could anyone else. They had vanished chimera-like into the blue skies, never to be relocated. We had not yet opened a single bottle of Foster's lager, nor was there anything illegal in the brownies. We had lost the birds, plain and simple. Were they snow geese? White pelicans? Gulls? We'll never know.
My anguish over this missed opportunity was soon vanquished as we added more species: red-headed woodpecker (totem bird of the IHBT Big Sit!), eastern wood-pewee, house sparrow, barred owl, great blue heron, and the crowning achievement of the 2002 TBS!, a flock of six black-crowned night-herons migrating south against the brilliant orange-red sunset. This was a new species for the IHBT Big Sit! and a new species for our property (#178)! There was much joy in Whipple. We had reached a new record for the Indigo Hill Birding Tower Big Sit! 62 species! Next year we want 70! All it will take is a good cold front, cooperative weather, little or no wind, and a few more pepperoni rolls.
My thanks to all TBS! participants at the Indigo Hill Birding Tower. And to John Triana and the members of the New Haven Bird Club who created The Big Sit! It's a fantastic event. Julie and I and all the folks at Bird Watcher's Digest are thrilled to be associated with it.
Russ Titus – Marshfield, MA
Having done a Big Day or two a few years ago in Indiana I was interested in starting my own in Massachusetts. I was scheduled as volunteer trail naturalist on Oct. 13 and thought that visitors would find the concept of the Big Sit interesting and fun. However it rained constantly and I was quite ill, so I could not stay long at my exposed platform (and I had no visitors!). Better luck next year – should double the total in ok weather.
Patrick Brisse – Tucker, GA
small big sit again, I could only do a few hours this year. Hopefully will have more hours available next year I could have done a little better if I had stay in late afternoon (bird activity was picking up around 5:15 after being quiet most of the afternoon. I had to take one of my kid back to college. No exciting birds being reported. I did enjoyed watching about 8 Rose-breasted Grosbeaks and 3 Scarlet Tanagers eating berries in my dogwood (8 yards away from the circle) all day *** the usual warblers were missing (Chestnut-sided, Magnolia …). Just a fun day.
Jim Sinclair – Kleberg County, TX
Notable observations: A family group of seven Grooved-billed Anis spent most of the day in some brush almost at our feet. This is very late for them to be around. A calling Chuck-wills-widow was the first time one had been recorded calling on the ranch, although they have been flushed before. We did NOT record House Sparrow, and two of the very last species recorded were Northern Mockingbird and Starling, which we only found by aggressively scanning the building area with a scope. We also did not record Black-crested Titmouse, a very common species in this area.
Bill Buskirk – Union County, IN
This is a different site that the one I used last year. This year at this site will be unusual because extensive mudflats are available at this site during our drought.
Ton Eggenhuizen – Flevoland, Netherlands
On 6.30 Kees de Pater, Greet Boomhouwer, Peter Scholten and myself started our Big Sit on the Jan van den Boschpad in the world famous Oostvaardersplassen. It was clouded with almost no wind. At 7.30 Rene Alma joined (he overslept) and at 8.30 Kees Breek. At 11.00 Auke Ferwerda spent some ours birdwatching with us.
In the early morning just two bouts of sunshine – in total 7 seconds – were promising, but it stayed with this. Due to this weather conditions and the conditions just north of the Netherlands migration of passerines and waders was extremely poor. I Cannot recall another day (and previous week!!!) in October with such a poor migration! A moderate migration would bring us some 10 species more, superb migration some 20 species!
The slow birdcounter did not influence the high spirits. It was again big fun! With warm chocolate milk at 8.00, warm soup at 12.00 and warm Gluhwine at 15.00 we managed to beat the slight but cold easterly wind. At 13.00 the Dutch Dikesitters joint us for half an our, just checking how "good" we were bigsitting.
Good birds were Garganey (our last species at 15.30 just before we were breaking up), great gray shrike, reed warbler, yellow wagtail and little stint. Surprisingly all but the shrike, these were summer visitors. So it can be stated that migration in the northern part and our own area is still not started well.
Kurt Schwarz – Howard County, MD
This year was our worst ever, only 39 species, well down from our previous low of 46. Participation was way down, 11, versus the 20+ we usually get. Even the offer of doughnuts didn't get them out of bed. Weather was poor, but certainly not the worst we've had. The previous low, 46, was in 1999 in intermittent pouring rain. The worst we had this year was drizzle. South winds and overcast trashed the hawk flight. Water levels were the lowest I have ever seen them, due to a 10+" rain deficit. But that still didn't give us any shorebirds, except two fly-by Killdeer. I'll try to remember for next year to get participants okay to submit their names. As for the drought, prior to the nor'easter that came through yesterday, the rain deficit here stood at 9+ inches. The lake at Centennial, which is a recreational lake only, was the lowest I've ever seen it in the 7 or more years I have been going there. The reservoir that I visit most for birding, Triadelphia, has also been the lowest I've ever seen it. That reservoir is owned/managed by the Washington Suburban Sanitary Commission, which serves Montgomery County and some of neighboring Howard County. When I was last there, one boat launch area was closed, because the water was a 1/4 mile or more from the ramp. The other ramp was still open, but that was way down.
The nor'easter raised water levels at Centennial, but they're still down by several feet. Yesterday I saw there three species we missed on Sunday, Ruddy Ducks (probably came in with the nor'easter), Sharp-shinned Hawk, and Tree Swallows (two, fly by). I was hoping for more exotic stuff, it being perfect scoter weather, but no luck.
Richard McCormick – Long Beach Island, NJ
My list from North Beach Haven, Long Beach Island, New Jersey. My circle was at the top of a dune with views in all directions. I saw a Northern Diamonbacked Terrapin on the edge of the surf.. it was approx. 6 inches long and we had fun watching it for a while until it headed back out to sea.
John Himmelman – Killingworth, CT
I wanted to join my daughter this year for the event. She usually does our yard while I join the Surf Scopers at Milford Point. I picked a good year. Rain all day. It was nice to be under a shelter for a change. I kept in contact with the Milford team via their cell phone and they seemed to be taking the rain in stride. While part of me would have liked to add my incessant whining about the weather to their platform, it wouldn't have beat a quiet afternoon on the deck with my daughter.
Arthur Grimes – Everett, WA
Hi All…I arrived just before dawn to my Big Sit site. It was to be a beautiful day and I was hoping for my best count. This is my third year at this spot. Unfortunately, I didn't count on FOG. Dense, thick fog that lasted till about 10:30 am. I only had 6 species up to that point. I was about to give up from boredom and cold when the fog lifted and the sun warm me and the birds up. Birding improved greatly for the next couple of hours then it died down again. I stayed a few more hours and got my total up a bit and called it a day around 1pm. So can anyone tell me why we do this in Winter and not Spring? Very sadistic, my friends, very sadistic. 😉 I really enjoyed this event, I just wish I could convince my friends so I wouldn't have to do this alone!
John Mariani – Santa Clara Co., CA
What an awesome day! By staying until dusk I managed to get 62 species, barely beating last year's tally of 60 species at the same spot. I would be curious to know if any other teams managed to get higher species counts at an inland (no saltwater) location.
Upon arriving I was greeted by a troop of 20 Wild Turkeys. As usual there were thousands of waterfowl concentrated at the east end of the reservoir, including about 500 Canada Geese. All the ducks and shorebirds attracted a few raptors, and I had Merlin fly by three times, once passing low right over my head! There were also several White-tailed Kites in the area, a Northern Harrier visited at intervals, and an immature Cooper's Hawk was observed fleeing the scene with a mob of crows in fast pursuit. Only one Golden Eagle was sighted, soaring at a great distance. Mixed flocks of blackbirds and starlings came and went, with an unusually high number of Tricolored Blackbirds (30-40?) among them. While sifting through the hundreds of blackbirds I got the day's only Brown-headed Cowbird.
Late in the day I tried scoping some impossibly distant oaks on a distant ridgeline, and sure enough I managed to spot 2-3 Acorn Woodpeckers flying to an oak snag. But the real treat came at evening, when I counted 123 Yellow-billed Magpies flying by in a continuous stream to roost in the hills behind the reservoir.
The birds were good, but mammals provided a few highlights as well. While scoping trees I spotted a mother Raccoon and her 3 kids chasing each through the branches of a tall oak. At one point a low growl to my left alerted me to a family of Wild Boar lurking in the nearby brush, and at
evening a herd of Black-tailed Deer came to graze at the edge of the reservoir.
Eric Huish – Utah County, Utah
We decided to sit out at Lincoln Point (Utah Lake, Utah County) near the orchards along the side of the road. We sat from 7:15 AM- 2:00 PM and went out again from 6:00 PM – 8:00 PM. We saw a total of 42 species. Most interesting were Merlin, Herring Gull, RN Duck and Bufflehead. We had lots of misses I thought we would get such as Canada Goose, RT Hawk, Starling and Magpie to mention a few and we saw a Forster's Tern and Lincoln's Sparrow when we stopped there the day before that didn't show up for our count.
Ricardo van Dijk – Flevoland, The Netherlands
The harsh weather conditions made this sit to an unsuccessful one. When we wanted to take a brake at 13.00 hours, we walked to the car and saw a Northern Lapwing flying by, a new species to the list. We ran quickly back to our circle and could add this species to our list. Furthermore, we had a Peregrine as a neighbor, high in an electricity pole. It was nice to see how it ate a prey at the end of our sit.
Herb Fibel – Granite Reef, AZ
The weather was partly cloudy with off and on winds from 15 to 20 mph. The high temperature may have reached 90, but all in all, the weather was very pleasant. This was our 7th Big Sit! at this site. Sitters! were our ace spotter, Pete Moulton, his girlfriend, Cynthia Donald (whom Pete first met at the Big Sit! in 2001); octogenarians, Ken and Ardelle Howe, newcomer, first alternate big sitter!, Adam Martin, and me, Herb Fibel.
The species names followed by asterisks (seven, count 'em, seven) are new to, the count circle, with one, the Bay-breasted warbler, not only a new bird for the Sit!, but a lifer for me. Our total for the seven years is now 107. Our total for the 6:00 a.m. to 3:00 p.m. count day of 51 was nothing short of amazing, since the majority of traditional winter species had not as yet made their appearance, and regulars, such as the Vermilion flycatcher, Song sparrow, House finch, Gambel's quail, Cactus wren and Bewick's wren, were nowhere to be found this year.
To our tradition of sharing baclava, we've added two new traditions–grilling Johnsonville Brats on site, and playing cribbage–while at least two people kept on watching for new species to add to the list.
Pete came up with the suggestion that our Big Sit! site group all heartily endorsed–that "Preparation H" would be a perfect new corporate sponsor nationally for the Big Sit!–Seriously!
Kathleen Van Orsdel – Colorado Springs, CO
Generally we have 'gobs' of crows – only one sighted all day. I expected two others that I normally see (Scaled Quail and Starling) – none showed.
Martin Hagne – Weslaco, TX
The VNC's 2nd Big Sit was once again productive for being located in a small nature park in the middle of the city. Homes, business', restaurants, schools, industry and a major road and rail road all surround the center. It goes to show just how important these little nature spots really are!! We are lucky to have it here!! A great time it was!! Birds, food, friends, all while SITTING!! This years Sit produced 2 more species than last year. A few common birds where absent while we had several good surprises!! We had a mini hawk watch with T. Vultures, Sharpie, Broad-winged and Swanson's Hawks, all seen through a very small "hole" in the mesquite canopy. A few nice migrant song birds helped out as well. We had 3 birds unidentified because of such brief glimpses, and couldn't relocate them. I do believe that they were a Gray Catbird and a Altamira Oriole, and a probable empid, but left them off the count because of the uncertainty. We watched from about 7am to 6pm with a lunch break from 12 to 1, a total of 10 hours. –
Rich Rieger – Alexandria, VA
We had a pretty good day for our event. Despite the cloudy skies, it was easy to be outside with little or no wind. Some very light rain fell at Huntley Meadows, just enough to make participants put on a poncho. Never got to the point where we needed to seek shelter. Temperature was in the 60's all day w/ some patches of sun on and off.
The circle at Belle Haven barely edged out Huntley with 59 species being tallied at the picnic area vs. 58 species at Huntley. The total for both sites was 83 species. Ducks and shorebirds weighed in heavily on the Potomac, w/ a nice smattering of passerines. At Huntley, it was a good raptor day, w/ 7 species counted and two Barred Owls that went off about 3pm in the afternoon. The miss of the day was no White Pelicans at Belle Haven, much to the chagrin of many who had come in hopes of catching a glimpse of those rare visitors…
John – the two circles were about 3 miles apart…a ten minute drive and a 15 minute walk out to the tower…I made three round trips during the day to set things up and watch…Sonya left the circle at Belle Haven and then went to the circle at Huntley to cover for someone who had dropped out…We had a few people that visited both circles. I think next year, I'm only going to do one circle and save some wear and tear…We had some people dropout due to the sniper madness that is happening here…
This really is a great event – I see it being a great PR tool for clubs to attract members – I know we got a few, and had it been a sunny day, we would have gotten more. Some of the parks here were actually shut down, due to the murderer on the loose. Huntley was open, but canceled a planned event. Lots of sadness.
Lanny Richard – Pinetop-Lakeside, AZ
This was our first year to participate in the BIG SIT! We had a good turnout and a wonderful day of birding and friendship. By mid SIT! plans were being made for next year, with more people and a much expanded menu. A chili cookoff was mentioned as an addition to this years homemade Ranch Pickles & Fresh from the Farm Salsa. Because of a 2yr. draught and lack of heavy snow our lake was only half the surface area and depth we normally have this time of year. This caused a loss of 6 to 8 species of ducks usually found here. Our location, at lakes edge, right off of the main trail around the lake gave us a great opportunity to tell visitors about the BIG SIT! and our Audubon activities. Our highlight was to watch a Northern Harrier hunt, over the lake and in the reeds for almost 2hrs. This also gave us the opportunity to really show visitors what birding is all about. WE CAN'T WAIT UNTIL BIG SIT! 2003
Stacy Hanks – Milford, CT
After forging through near knee deep waters, we finally made it to our soggy island circle about 6:30 in the morning. We sat. Within two heartbeats our tally was over 30 species. About 8:30 AM the coffee and donuts arrived via my husband Bill. We sat. With sprinkles of rain and intermittent flocks of birds flitting through, our count climbed to 40. We were treated to 4 new species of warblers thanks to the diligence of Steve and Charla Spector. At lunch we had our traditional hot dogs and beans. Beef Jerky, banana bread, brownies and chips were available all afternoon. Hot mulled cider was there to warm us up. We sat. We jumped up! And what to our wondering eyes did appear, but a Great Blue Heron chasing an American Bittern…OVER THERE!!! By this time our afternoon shipment of coffee arrived on the wings of the Aimesbury's- Thank-you. Within a couple of hours, the tide was coming in and it was time to pack up and leave the circle. We saw 56 species, 9 of which were new for our circle. American Bittern – a "life" bird for me.
Shirley Sturts – Coeur d'Alene, ID
"3 dead ducks – one Mallard drake, a possible Northern Pintail drake, and one that we couldn't even guess at. They sure look different when they are floating upside-down. Opening day of waterfowling season was yesterday, and these were birds that the hunters did not pick up for some reason." Comments from Lisa Hardy – (The dead birds are not included in the list below).
Noreen Mole – Pittsfield, MA
There were 11 new birds on this year's list, but 10 species that were seen last year but not this year.
Nancy Menasco – Shreveport, LA
An arctic front moved through our area the day of the Big Sit. As the front moved in, the significance of the park's location next to the Red River was apparent. Migrating birds following the river south flew over our heads. Strong flying Greater White-fronted Geese led the way. By the end of the day, 367 had passed over us. Then came the raptors: 51 Broad-winged Hawks, 10 Sharp-shinned Hawks, 5 Red-tailed Hawks, 3 Red-shouldered Hawks, 3 Cooper's Hawks, 2 Osprey, a Peregrine Falcon, and an American Kestrel. One would have thought we were at Hazel Bazemore Park in Corpus Christi. Okay, maybe not, but the numbers were very impressive for northwest Louisiana. Large migrating flocks of non-raptors included 59 White Ibis and 300 American Robins.
For the preceding two years, Vermilion Flycatchers have been seen in October at Bickham Dickson Park and one has stayed the winter each year. The first sightings last year were during the week after the Big Sit. This year, not one but two birds, an adult male and an immature male, had been seen in the park on a regular basis for over a week before the Sit. Hoping against hope that at least one would leave the easy insect pickings over by the lake long enough to be counted from the circle, we were elated when one was spotted flying across the far end of the field. In 2001, we noted that circles in Arizona, Texas, and Mexico were the only ones to report Vermilion Flycatchers. This year, we are proud that the exotic location of Shreveport, Louisiana, will join that elite list.
Mike Petrucha – Houghton Lake, MI
Extreme wind again making bird id difficult. There was a lot of bird movement, but they were flitting from bush to bush and would not come out of the thick cover. My scope blew over again this year, only this time it was in the parking lot when I was putting my stuff away. This time the housing around the eyepiece broke. I couldn't even swear because there were many children present.
Cyndie Browning – Tulsa, OK
This was our 3rd annual Big Sit! at the Edge of the Earth. Yeppers, that's really the name of the road where Phil and Sue Ann Floyd live—Edge of the Earth Road—and it pleases my personal sense of whimsy to stage our annual Big Sit! at the Edge of the Earth and wait for whatever flies over. We do it simply because it's fun. And while we're waiting for the birds, we laugh, tell stories and jokes, and consume vast amounts of homemade chili, potato salad, chocolate chip cookies, and this year, lemon bars brought by Vicki Hatfield all the way from Grove, OK…. which just goes to show that it doesn't matter where you Sit or what you see while you're Sitting; what matters is who you're Sittin' with and what they brought to eat!
Only 23 species this year, but our cumulative total for the past 3 years is now 41 species, including the cormorants, Mississippi Kite, No. Harrier, and Gr. Horned Owl which were new species for the cumulative count. As for "vast numbers of sparrows, too many to count," House Sparrow is as close as we got this year. Oh, well…. we'll hope to do better next year.
Jim Royer – Los Osos, CA
Fog again hampered the Big Sit bird count at the Elfin Forest. Very little daytime tidal movement also contributed to our total of only 105 species. We had a record of 27 counters (including almost all of the county listers) and a record for great food and drink (home baked banana bread, muffins, coffee cake, fruit, champagne, fruit juice, etc.), but the birds just were not moving. The sun never came out, which made the raptors and land birds less active. The shorebirds sat most of the time and the loons, grebes, and bay ducks mostly stayed in the deeper part of the bay which we couldn't see due to the poor visibility.
Nevertheless, we still had some nice winged surprises. A Burrowing Owl called as it flew over our heads in the early morning darkness and then landed on a fence near the big sit circle. We looked at it by flashlight until it moved on. A Palm Warbler was seen off and on for much of the day – wagging his tail up and down the sandy trail and feeding in a semi-circle around the wooden count platform. Other additions to our all time count list (up to 160 species!) were Blue-winged Teal, Band-tailed Pigeon, and Chipping Sparrow. We also enjoyed an Osprey as it plucked a fish from the bay and sat on a snag where it tore apart the fish as we watched. A California Thrasher serenaded us from the top of a nearby bush for much of the morning as we searched for species with a battery of scopes.
The counters did great, considering the conditions. Things got especially slow in the mid-afternoon with two hour periods having nothing new for the day. The final bird was a Barn Owl at just before 7, which took off from some trees below us as we were sipping our end of the day champagne.
Frank Gallo – Milford Point, CT
We enjoyed conversing with Stacy Hanks and company via cell phone. They had a circle in the woods opposite our location. We could see one another across the marsh and were able to tell them about a Peregrine perched behind them. It was a treat to watch the pair of adult peregrines as they alternately perched on the towers by I-95 or chased birds across the marsh. A Common tern that appeared with a flock of 20 Forster's terns was new for our count circle as were a couple of Short-billed Dowitchers that flew over us calling at dusk. It was a nice way to finish up the day! Our cumulative total for 9 years stands at 134 species. We miss John Himmelman and want him to come back…
Sally Adam – Constantia, South Africa
Alas, this year our Big Sit! effort (Pam *will* insist on calling it the Big Eat!) was an abortive affair. All three participants suffered from last minute other-obligations, and we were thus only able to complete a 4 hour stint in the morning and a couple of hours late in the day. Further complications included a new and noisy puppy who required constant supervision and training (if she wasn't chasing the passers-by, she was attempting to sample the snacks).
Our circle was set up on the Alphen greenbelt outside the Louw residence, on a raised area which we felt would increase our field of vision (and would keep our victuals a safe distance from passing hounds).
Big Sitters One and Two were in position at the appointed hour of 05:00. Big Sitter Three stumbled out some time later but made up for his tardy appearance by swiftly audio ID-ing several more species. We were ticking quite busily for about the first 90 minutes, after which the birds quieted down. We were fairly happy with our tally of 38. Quite a few were identified by their songs alone – when you're confined to a 10m circle it becomes essential to know the bird calls! We didn't tick anything astonishing, but we were pleased to hear both Klaas' and Red-chested Cuckoo, Burchell's Coucal and Spotted Dikkop.
We then all went off to fulfill the various obligations and returned to our circle in the late afternoon for another wee bash. Having sensibly left the picnic raider at home this time, things were a lot more civilized and the passing walkers gazed on our wine-quaffing crisp-munching scene with envy (or perhaps it was disbelief: we cared not a jot). I'm ashamed to confess that not a single new species was added in this second session and perhaps Pam's description of our activity is more accurate 🙂
All in all it was a far pleasanter experience than last year's Sit! at Strandfontein Sewage Works and it was a great pity that we couldn't spend more hours in our circle. Next time!
John Arvin – South Padre Island, TX
We anticipated the arrival of a forecast cold front during the day which we hoped would precipitate landbird migrants into the small woodlot which has been planted especially to provide migrant cover. This is not occur. As there are only a handful of resident landbird species on the island, if there aren't many landbird options if there is not a notable grounding. There wasn't, and we recorded one species more than we did last year. The site is capable of producing a 100+ species list at this time of year, but only under very specific conditions. These we have not had so far. Not hurting us badly, but definitely not helping, was the concurrent rally of some 5000 Harley-Davidson bikers at the Convention Center. The deafening roar subsided toward afternoon as many of them headed home.
Aleix Comas – Castelló d'Empúries, Spain
It wasn't just myself, it was more than 150 persons that wrote down their names as participants on the noteboard that we set to that effect! Although there were only 2 people who remained there for the whole 24 h (Ponç Feliu and Mercè Sánchez-Frou and a further 4 who slept in the circle and remained there until Sunday afternoon (Joan Carles Gimisó, Ana López, Helena Perxacs and myself). During the day many people and friends came for some hours and went. It was broadcasted on TV and it was on newspapers as well.
Jim & Susan Hengeveld – Unionville, IN
This was our 7th consecutive Big Sit! Having broken the previous year's record for four consecutive years, we didn't know if we had a realistic shot at breaking the '01 record of 69 species. But, this was the earliest date on which we'd participated in a Big Sit, we still had a RT Hummingbird around on Friday, there were 1-2 Great Egrets still around (which we had not yet recorded on a Big Sit), and there was a front forecast to move through overnight on Saturday night/Sunday morning, so…….
Winds started blowing at about 11:30 on Saturday night, issuing in the cold front. I got up at midnight to check for owls, nocturnal migrants, and anything else that was calling. It was 59 degrees F, the warmest it would be all day. The winds made it impossible to hear anything except loud, raucous calls. I heard a GREAT BLUE HERON and CANADA GOOSE and went back to bed for a few hours.
We got up just before 4 and met Lee Sterrenburg, who braved the whole day with us. We spent the next couple of hours adding virtually no species as we felt the temp. drop from the low 50's to the upper 40's. Our only bonus was a BARRED OWL that landed briefly in the ash tree in our front yard shortly before 6 o'clock.
The next half hour was spent trying to pick out bird shapes in the darkness at the east end of the lake. An AM. COOT flock appeared in the middle of the bay and PIED-B. GREBES materialized amid the lotus leaves. A group of RING-NECKED DUCKS (our first of the fall) were showing their distinct head shapes before taking off. Among the tens of other ducks taking off in the semi-darkness were many MALLARDS and WOOD DUCKS, BLUE-WINGED and GREEN-WINGED TEAL, and GADWALL. In the middle of one of the small duck flocks that took off was a strikingly white bird with a large distinct bill. I instinctively yelled "shoveler" but then realized that it wasn't a shoveler–the entire undersides were white with a dark upper breast and head. It was a drake CANVASBACK that flew a couple of more circles in front of us before taking off. It was probably our "best" bird of the day.
A KILLDEER called overhead and a GREAT EGRET appeared out of the mist shrouding the lotus and the Can. Goose flock. A DOUBLE-CR. CORMORANT perched on one of the buoys at the east end of the lake. Local passerines started calling and showing up at the feeders. At ~6:45, an adult BALD EAGLE flew from the south to the north side of the lake. Shortly before 7, the first of 35 SHARP-SHINNED HAWKS (a new record for the "East Lk. Lemon Hawkwatch"–our deck!) appeared over the north ridge. By 7 am, we had tallied 24 species and were adding new species quickly.
Over the next hour, we added another 22 species bringing our total to 46 by 8 o'clock. At ~7:15, Mike Clark pointed out an EASTERN PHOEBE that had landed in our ash tree. Two fem. BUFFLEHEADS (our first of the fall) flew by quickly. The first small flock out of a total of ~650 AM. ROBINS (new record # for our Big Sit) flew over. We tallied both TREE and BARN SWALLOWS, and both COOPER'S and RED-TAILED HAWKS were added during this hour. Lee picked out 2 HORNED LARKs going down into the grass out on the flats, a BONAPARTE'S GULL that appeared out of the west, and a NO. PINTAIL in a small mixed flock of ducks.
The first of several CHIMNEY SWIFTS flew over the north shore shortly after 8 and a drake AM. WIGEON flew over in another mixed group of ducks shortly thereafter. Ron McCullick picked out a GOLDEN-CROWNED KINGLET along with several YELLOW-RUMPED WARBLERS flitting around in the trees in our yard. Susan spotted an AMERICAN KESTREL flying low over the north ridge heading east; a GREATER YELLOWLEGS called and eventually landed out on the flats; and a NORTHERN HARRIER appeared briefly over the north ridge as far to the west as we could see, before disappearing. It was 10 am and we were at 59 species.
We added 6 more species before noon: an E. MEADOWLARK cruised eastward along the entire length of the north shore ridge; a small flock of AM. PIPITS flew over; with a screech-owl tape, we coaxed a PALM WARBLER into view in the damp, scrubby area just east of our property; a WHITE-THROATED SPARROW "chinked"; and we added flyovers of both WILSON'S SNIPE and PECTORAL SANDPIPER.
At ~12:30, Susan & I took a canoe ride out to the flats to see what else was out there. Lee, Mike, and Jim Brown remained on the deck to see what was flushed. This exercise produced a NASHVILLE WARBLER, several more Wilson's Snipe, a Palm Warbler, and another E. Meadowlark. At about 2 pm while scanning for raptors, Mike and Jim B. spotted a distant group of 11 SANDHILL CRANES that the rest of us eventually found as well. Shortly after, we heard the distinct calls of yellowlegs (a Greater Y. had been hanging around all day) and soon found a group of 3 LESSER YELLOWLEGS with 2 Greaters. Close to 3 pm, our local HAIRY WOODPECKER finally visited our suet feeders (and then would not leave). Just before 4 o'clock, one of the local RED-SHOULDERED HAWKS finally made an appearance over the north shore. While we were watching it, an undulating bird with a striking white "arm" stripe flew past–it was an adult YELLOW-BELLIED SAPSUCKER.
We were now at 71 species. The evening "falcon flight" did not disappoint us as we tallied 2 MERLINS and 1 PEREGRINE FALCON between 4:30 and 5:30. We rounded out the day at an even 75 species when we added a 1st-basic HERRING GULL at ~5 pm and, surprisingly, our only PILEATED WOODPECKER of the day, a bird that took just a few short swoops over the trees above the flats at the east end.
The total of 75 species was a new record for us (eventually, we'll HAVE TO stop breaking the previous year's record). We added 8 new species to our Big Sit count: Great Egret, Canvasback, Bufflehead, Am. Kestrel, Sandhill Crane, Golden-cr. Kinglet, Nashville Warbler, and E. Meadowlark; there were an additional 7 species that we'd recorded only once before. Our 7-year cumulative total is now at 108 species. We did well on waterfowl (11 species) and raptors (10 species, counting TV) and had a surprising 5 shorebird spp. There were big flights of Am. Robins (mostly in the early morning hours) and of Blue Jays (~580), which were flying throughout the day.
Misses: Great Horned Owl–never missed before; Northern Shoveler and Eastern Screech-Owl–missed only once previously.
Peter Wilkinson – Bedfordshire, England
It was fun, as always, though the weather turned very inclement (wet!) in the afternoon and I gave up a bit earlier than in previous years (14.45hrs). I went back, in the event, to my usual spot, East Hyde, Bedfordshire (5th yr in the same spot). A light mist as I arrived (07.45hrs) and quite a heavy frost. Fantastic sunrise, briefly, through the mist (worthy of a Turner watercolour), then solidly overcast, but calm and reasonably bright, until rain descended in the early afternoon. 54 species this year (54, 56, 56 and 57 in previous years!). By myself this year (Matt Best having just started at Cambridge University and everyone else I asked being otherwise committed).
Tom Swochak – West Granville, MA
This big sit circle was run for the 2nd straight year and has been chosen for its 360 degree view, making it a great location for hawk and other fall migrants flying over. On a good day we would expect to get 40+ species. Unfortunately for the second year in a row we experienced fog and drizzle/light rain, resulting in virtually no flyovers. Team captain Seth Kellogg was unable to participate in this years Big Sit but is expected to lead our team next year.
James Peters – Baltimore, MD
We found a Clay-colored Sparrow, a rare vagrant, that became bird 196 on the Fort bird list. A Black-crowned Night Heron was in a corner of the marsh out of view and therefore could not be counted, we also missed Green Heron, Sharp-shinned Hawk, Bald Eagle, Hermit Thrush, Magnolia Warbler, Black-throated Blue Warbler, Yellow-rumped Warbler, Pine Warbler, Wilson's Warbler, American Redstart, and White-crowned Sparrow. All were seen during the week, but were no-shows on Sunday.
Rebecca Cheek – South Beach, Oregon
Excellent viewing conditions plus migratory movements of many species helped us shatter last year's record and reach a total of 57 species. We saw a continuous southward movement of loons, pelicans, ducks, and gulls throughout the day. Some estimates of numbers seen: 4000 Pacific Loons, 2000 Brown Pelicans, 15000 Surf Scoters, and 2400 California Gulls. Ocean surface was fairly calm, so we could distinguish small birds like the Marbled Murrelets ( 9 on water ), Rhinoceros Auklet, Red-necked and Horned Grebes (all single birds on water). Best bird of the day was the Parasitic Jaeger, a light-colored adult flying fairly close to shore. Several species were detected that were ruled non-reportable, including a Gashawk (small airplane), several Power-pole Plovers (Starlings mimicking Killdeer), and a Blue-crested Hawk (Steller's Jay mimicking Red-tailed Hawk).
Rose Payne – Musella, GA
Our two cats were present (in our enclosed observation platform) but hardly observant of birds, but really cognizant of thunder, lightning and rain. Not a good birding day for human or cat, especially since we discovered we were sharing our circle with a nest of particularly ill-tempered bald-faced hornets who persisted in showing their displeasure by squeezing through holes in the screen and threatening the count team and cats!
Betsy Thomas – Newburyport, MA
Sharp-shinned hawk landed on my lawn and grabbed a sparrow. Cell phone communication with Stiles Thomas' team in N.J.
Angela Broughton – Portville, NY
Unfortunately, our Big Sit was a 'Big Flop' this year. The weather was less than optimal and many of the members of our local bird club are committed to the Buffalo Ornithological Society bird count that always seems to fall on Big Sit day! So, we had only 1 participant for 1 hour.
Stiles Thomas and Carol Flanagan – Allendale, NJ
The drizzle, and brief episodes of rain did not dampen the spirits of the Fyke Big Sit! team, as we set out to break our own record, and to beat all the other teams in the USA and the world. This was the tenth annual Big Sit!. Fyke's team, the Celery Stalkers, has participated in the Big Sit! for eight years. Our total count for the day was 55 species. This matches our total for our first Big Sit! in 1995. Our highest count was 61 in 2001, and our lowest was 40 in 2000. Again our nemesis bird was the Eastern Screech Owl, it was not heard or seen. Notably absent were the Double-crested Cormorant, Pied-billed Grebe, and Turkey Vulture. As usual, the House Sparrow was nowhere to be found. New for our count were the Peregrine Falcon, Sora, Greater Yellowlegs, Hairy Woodpecker, and Black-throated Blue Warbler. This brings our cumulative count to 93 species!
Fran Alvernaz – San Rafael, CA
Saw 60 and a half birds (1 hybrid) all without leaving circle. This was an excellent year. all common birds made an appearance, most uncommon ones, plus a few surprises. No real rarities this year, but the total number of species was gratifying. The tides did not cooperate, only got a few shorebirds.
Judi Ditch – Washington, MO
My circle was at the juncture of a brushy field, a wetlands, a deciduous woods, and a section of prairie wetlands undergoing restoration (within the Shaw Nature Reserve, a 2400-acres of woods, fields, prairie, wetlands, glades, and riparian areas managed by the Missouri Botanical Society). I come to SNR almost daily (great place to walk, bird, and just be outdoors) and I was very glad so many of "the regulars" showed up to be counted in this year's Big Sit! I had one very magical moment: mid-morning, I was sitting facing the brushy field with my back to the woods, just 10 feet behind and to my side. A movement at the woods' edge caught my eye; it came fast, silently, moving deliberately toward me, then stopped just at the woods' edge in an old red cedar. A pair of large, dark eyes stared at me from the cedar tree, bobbed left then right as if trying as hard to figure out what I was, as I was trying to figure out what it was. The face was light above a beautifully streaked breast, the shoulders dark. Never taking its eyes from mine, the bird – which I knew then to be a merlin – flew directly to me. I tried not to move, even blink!, but when the bird got to within two feet of my face, I flinched and it veered left, perched in a second tree long enough for me to see the dark back and long, banded tail. Then it flew over the wetlands and beyond the next woods. An amazing moment I would have missed if I wouldn't have been doing the Big Sit!
Pat Dean – Prospect, OH
Oh What A Day!! It started with rain, but stopped by the time Alex, Kurt and I could get to the circle to watch for the birds. It turned out to be a beautiful day, weather wise and nature wise. We didn't see as many birds as I would have liked, but my 9 Grandchildren learned many lessons about nature. That was more important! Each child had a notepad so they could record their findings. Alex and Carrie were able to identify some of the birds by themselves. The little ones were just please to find the bird in their binoculars and identify the colors of them. Joey, 6 years old, even listed his sister's tongue as something interesting that he saw. by the time all the children and adults had assembled, the circle had been abandoned and their world was expanded. Three adults and most of the children took a half mile trek to the river through a nature field. I am sure they encountered many species of animals. I couldn't go with them because I am recuperating from a total hip replacement, so the circle had to be my range.
During the week before, I had identified at least 10 more species than we did on Sunday. Many of the species were migratory that were still hanging around in the fair weather. But, even the geese didn't honk, we have heard or seen them every day before and since. Also, the number of Crows in our vicinity have been depleted. We suspect West Nile Virus since we found a dead one in the yard about a month ago. The health department told us not to touch it and to bag it in 2 plastic bags and bury it. They already had verification that WNV was in Marion County OH. Mourning Doves have declined, too.
Kay Baughman – Rio Hondo, TX
The Big Sit day was a great one for us–not just in birds seen but in company-kept and food-eaten as well. Our circle was at our house on the Arroyo Colorado, a brackish river that is about 10 miles from the Laguna Madre in South Texas. The circle had views of the river, native brush, and agricultural land from picture windows to the north and native plants, trees, bird baths and feeders to the south. We ended up with 89 species–even without expected species that did not show up, such as the white-faced ibis, green heron, ringed kingfisher, tri-colored heron. We had very few ducks that could be identified–most of those we did see were in large flocks that were very far away and headed for the bay, probably just arriving with the cold front. We did have, however, more warblers than last year. At one time a bright male American Redstart and an equally bright Hooded Warbler were flittering around on the same birdbath, a breathtakingly beautiful sight. Another highlight for me was hearing or seeing four owls before daylight. I had awakened in the night and gone out on the upstairs screened porch that is in the circle to watch for a Barn Owl that occasionally flies by and listen for the Eastern Screech-Owl. (I knew we'd see and hear the Great-horned Owls during the day but the best chance for our only other two previously seen owls was at night, and I knew I'd be lucky to see the Barn Owl. ) It was a very still night–unusually still, with almost no wind at all and the neighbor's air conditioner coming on only intermittently. After about half an hour I saw the ghostly white shape of the Barn Owl, like a huge moth flying above the fishing light's glow on our side of the Arroyo. Last year it had appeared also, making its hissing sound as though scared out of its perch in the palm tree–but this year it was just making its way silently. I had been hearing Great Horned Owls in the distance to the south but still hadn't heard a screech-owl (I would not hear one until several hours later). The huge surprise came about half an hour later. The air conditioner had shut off, the pauraques and mockingbirds were quiet, I was listening really hard—and I realized that the steady quick little hoo hoo hoo hoo (etc) I was hearing was not my heart beating or the clock ticking (though it seemed almost as quick) but a sound of what I suddenly felt was an owl coming from far off to the northeast across the arroyo. It would stop and then start up. I tried not to breathe and even ran inside to stop the ticking of a rather loud clock just inside the house. After the neighbor's ac started again and the mockingbirds resumed a noisy middle-of-the-night serenade, I did not hear it again. On Sunday I had Pat Wade play his recording of the Ferruginous Pygmy-Owl over the phone—-and I knew the sound immediately. Now I'm wondering why I haven't been paying attention before–but then I'm not often listening on still nights at 2 in the morning! Anyway, that's the story of our owls–four species–which I think is pretty good for one 17-foot circle, even if it is in my own backyard which I consider the best birding place in the Rio Grande Valley, a perfect spot for a BIG SIT with friends and family!
Walter Ellison – Eastern Neck National Wildlife Refuge, MD
We had only a small raptor flight featuring 17 Sharp-shinned Hawks but only single kestrel and Red-shouldered Hawk. The Blue Jay flight was modest with 229 total seen headed south and about 170 returning northward. We were entertained for much of the day by the almost constant presence of Bald Eagles (at least 12 total), Osprey, and Royal Terns (including many begging juveniles chasing adults). Our best bird was outside of the circle and not counted on the list – a Gambel's White-crowned Sparrow. I left the circle to see if we could detect a phoebe from the circle on a telephone wire up the road and ran into the sparrow, oh well so it goes.
Matt Hafner – Assatague Island, MD
We found the second state record of Eurasian Collared-Dove for the state of Maryland! Luckily brief video was taken and views provided enough for a good write-up. This was the first Big Sit for all of us and we all had a great time. Looking forward to it next year.
Regina Biel – Carrollton, TX
The highlight of the day was a small flock of whistling ducks on a low fly over whistling as they worked. Awesome! It was a slow day with the weather contributing to low numbers. We are fortunate to not have House Sparrows, European Starlings and Rock Doves. We have great habitat for the birds on our 180 acre tree farm.
Roy Gerig – Dallas, OR
First Rough-legged hawk of the season. A rare (for here) Burrowing Owl has taken up winter residence visible from the circle, for the second winter in a row. Prairie Falcon has become somewhat regular on the Refuge.
Gunnar Engblom – Lima, Peru
Noteworthy sightings….Mountain Caracara Phalcoboenus megalopterus an immature or juvenile bird that following the adult Crested Caracara below. It is very unusual to find this species at sea level. It almost seemed as it had adopted the Crested Caracara as foster parent. This probably represents the first record of this species here. (Southern) Crested Caracara Caracara plancus – also quite uncommon at Pantanos de Villa, but a few previous records. Peregrine Falcon Falco peregrinus in the late afternoon an individual was seen making two circles over the marsh. Semipalmated Plover Charadrius semipalmatus around 50. Wilson's Phalarope a huge flock off shore of more than 1000 birds. First time I have seen so many at sea, as we usually see them in the lagoon. Must be recently arrived individuals.
Tonya Spires – Conway, SC
Waccamaw Audubon had a good Sit this year. The highlight of the day came as we hungrily watched the Little Blue Herons and Snowy Egrets gobble up huge shrimp from the marsh tide pools. Suddenly the feathers raised on a Little Blue from his head, down his neck, and onto his back. Looking up we saw the young Peregrine swooping over him and aiming for a Snowy. The Snowy dove into the creek with the falcon grazing his back with his talons. Going completely under the water saved the Snowy and soaked the Peregrine. He landed nearby and worked on preening his wet feathers. The feathers on our feeders stayed raised and out of place and those that did not leave kept a wary eye on the Peregrine. He managed to keep most of the birds on alert and moving for several hours afterwards.
---